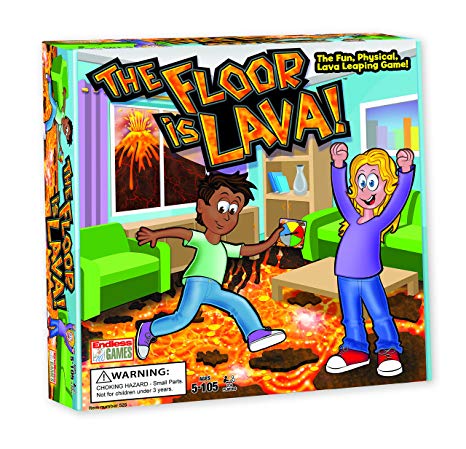 Some of you may have children who love playing the Floor is Lava (also known as "Hot Lava "). If you have never heard of the game in "The Floor is Lava", players imagine that the floor is made of lava and thus avoid touching the ground. My daughter and her friends love playing different versions of the game, such as lava monster where one person is the lava monster and everyone else tries to stay away from the lava monster without touching the lava ground. I knew right away she would love the new game from Endless Games. In the "Floor is Lava" by Endless Games players imagine the floor is LAVA, while "spinning" for their colour and jumping along their coloured pieces for safety.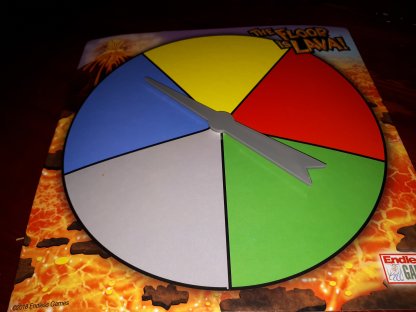 CONTENTS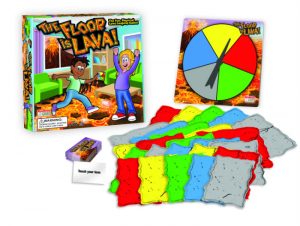 25 Colored Foam Safety Stones
27 Challenge Cards
1 Game Spinner Card (with arrow and base)
Instruction Sheet
 How to play The Floor is Lava
Before playing, nominate one player to be the first "spinner" for the game. This player will also manage the Challenge Card deck until a player is out  and can take over these duties.
Once everyone is ready, the first "spinner" yells out "THE FLOOR IS LAVA!" and all players rush to stand on the closest foam tile they can find – regardless of color. Then, the "spinner" spins for the next color and all players rush to jump on a tile of that color.
Whoever is last to reach safety has their original tile removed from the game. Follow this procedure of eliminating tiles after every spin. If all of the tiles of a certain color have been removed, you may re-spin if that color is spun. Players may remain on the tile they are on if that color is spun.
As long as a player can successfully jump to the next color that is spun without touching the floor (aka lava), he/she is safe. Whenever a player cannot successfully reach a tile, or if any part of the player touches the floor, he/she is out.
Once a player is out, they can take over the spinning and removing-tile responsibilities, as well as draw and read the challenge cards.
CHALLENGE CARDS
Should a player land on a tile with a "?" on it, he/she must perform the action on a challenge card in the deck. This action(ie: "Twirl around 2 times like a ballerina or cover your eyes") must be performed without falling into the lava, or this player is out.
Play continues with tiles being removed, and players being eliminated until there is only one player left.
For younger children there is a cooperative version of the game where all players work together to defeat the lava.
Each player goes one at a time and uses the spinner and foam tiles to get from  the danger side of the room to the safe side. When everyone makes it across safely the team wins.
Overall, the game incorporates physical activity, imagination and we had a lot of fun as a family playing it.  Unplug this summer with Endless Games!
Endless Games is donating a portion of proceeds from every single sale of it's the Floor is Lava game to the American Red Cross Disaster Relief Fund to help the people impacted by the volcanic eruptions. Help the people of Hawaii and Guatemala by purchasing the game.
About Endless Games
Founded in 1996 by industry veterans Mike Gasser, Kevin McNulty and game inventor Brian Turtle, Endless Games specializes in games that offer classic entertainment and hours of fun at affordable prices. The three have an uncanny ability for discovering and developing hit games, having been a part in past successes Trivial Pursuit, Pictionary and Six Degrees of Kevin Bacon. The general principle of Endless Games is to produce high quality entertainment in board games that are quick and easy to learn but offer "Endless" play value. To learn more about the company and where to purchase its unique line of entertainment products, visit www.endlessgames.com.