Why not give a gift that gets kids away from electronics and encourages them to be more active? Something as simple as this bunny jump rope from aGreatlife can bring hours of enjoyment.
I still remember some of the jump room rhymes from my elementary school days back in the 70s. I loved jumping rope as a child.  Someone over the years children's love of skipping has faded. Research states that by age five, most children can jump rope and jump several times in a row.
Miss P is six and is unable to jump rope. And she's not alone.  Several children I know are also unable to jump rope. That's why it is time to get back to the basics of giving gifts like simple building toys, skipping ropes and playdough to children.
aGreatLife Adjustable Jump Rope for Kids
The jump rope from aGreatlife is made from durable cotton that does not tangle, allowing for smooth rotation on every jump. Non-slip, hand-carved handles are made from natural wood with a well-sanded surface. They are then painted with non-toxic paint finishes. The cute handles will inspire young ones and survive hours of play. The wooden handles remind me of the classic skipping rope that I had as a little girl. I would skip for hours.
Not only will the bunny jump room bring magic to play time it can also help improve balance, hand-to-eye coordination, and agility. The jump rope is 2.5 m long and can be adjusted to your child's height. The rope also comes with a handy cotton pouch for storage.
Surprise your little one with a new bunny jump rope. It makes a wonderful stocking stuffer. You could also include some fun rhyming cards that they can sing while jumping.  Or why not order a jump rope for a Samaritan's Purse shoebox?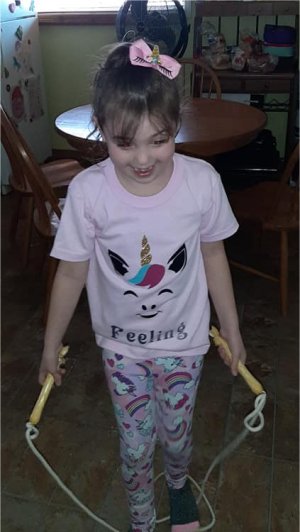 Skipping rope isn't just a great gift to help kids get active but for adults as well. Jumping rope is a great way to burn calories and strengthen your cardiovascular system. According to research, jumping rope equivocates to running an eight-minute mile.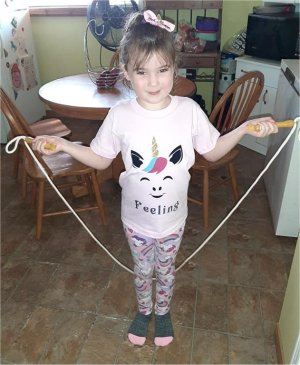 Amazon: https://amzn.to/34rsmZL
Website: https://agreatlifebrand.com/