Now that it is snowing here in Belleville, my daughter is super hyped, anticipating the arrival of Santa. She'll have to wait for 58 more days until he arrives. Nonetheless,  we have begun our countdown to Christmas. In my family, you can never have enough games and games are certainly on our Christmas wish list. At Today's Woman, we strongly believe that board and card games make the best gifts, because they bring family together while providing hours of entertainment.
Endless Games has taken my favorite childhood game of Red Light Green Light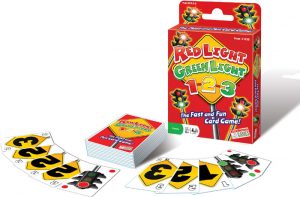 and turned it into a fun family card game that my daughter can enjoy.  Red Light Green Light 1-2-3 is the perfect game for indoor recess or winter snow days. It is also a wonderful travel game that doesn't involve electronic gaming and is a fun game to play on family game night.
Parents will love the game as it encourages number skills, fast thinking, and cooperative play.
Red Light Green Light, 1-2-3 Card Game play instructions
In the fast-paced Red Light Green Light 1-2-3 Card Game of traffic lights and numbers, you must organize your cards into Red Light, Green Light, 1-2-3. Deal seven cards to each player and immediately begin the game by taking turns playing as many cards as possible. First the red light card, then the green light card, then one, two, and three – Then, start again with the red light. If you run out of cards to play, it's the next player's turn. If none of your cards work, you have to draw a card. The first player to play all of the cards in his or her hand wins the game!
Review of Red Light Green Light 1-2-3 Card Game
If your looking for a new card game then "Red Light Green Light, 1-2-3 Card Game" is the one! It is great games for ages 5+, though my 3 1/2 year old daughter had fun playing it with some assistance from mom and dad. It is a rather easy game to learn and play.
Founded by industry veterans Mike Gasser, Kevin McNulty and game inventor Brian Turtle, Endless Games specializes in games that offer classic entertainment and hours of fun at affordable prices. From ages 3 to 103, Endless Games offers card games, dice games, party games, word games, strategy games, trivia games, survey games, and pop culture games for everyone.
Website: endlessgames.com