The holidays are almost here and it's time to start putting together your list for the preschooler(s) in your life. Games that challenge the minds of young learners are always popular with preschoolers. Preschool learning games from Getta 1 Games are sure to help your little learner have fun and develop new skills all at once.
Teach the Time Clock Game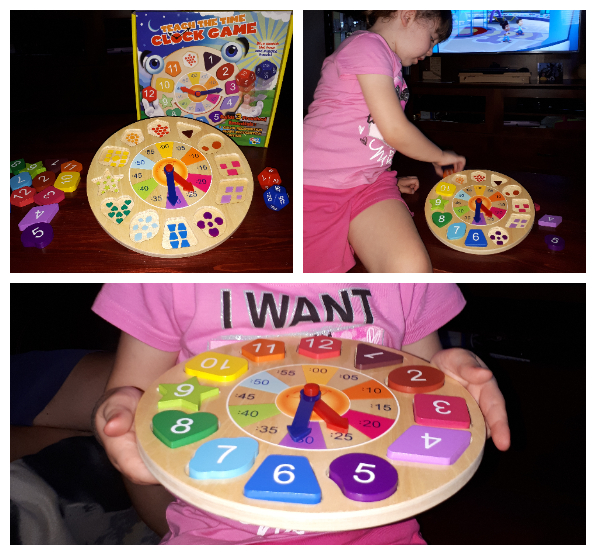 Help kids master the art of telling time with Teach the Time Clock from Getta 1 Games. Teach the Time Clock is a wooden puzzle and a game with a variety of levels of play. Kids learn counting, colors, shape recognition, number recognition and how to tell time!
My daughter is working on learning number recognition in junior kindergarten right now, so this is a fun way for her to learn. It is certainly a game that will grow with her as she moves on to more advance learning- such as telling time.
Overall, Teach the Time Clock is a much more fun, and effective way to help kids learn how to tell time!
The game includes all wooden clock puzzle with movable plastic hands, 12 double-sided pieces (hours /minutes), two custom time dice, clock stand and instructions.
Piggy Pile-Up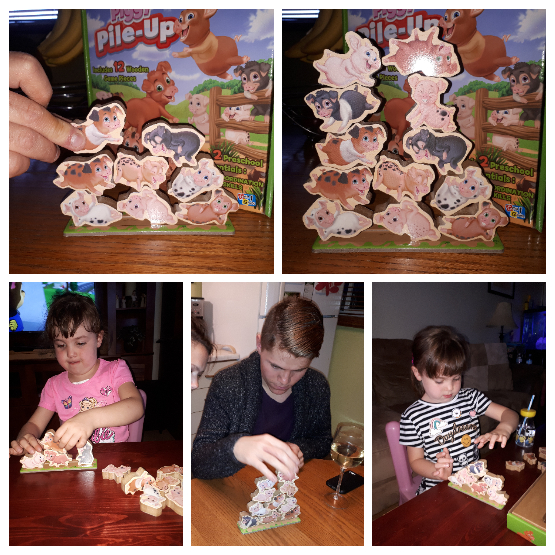 Piggy Pile Up from Getta 1 Games is sure to be a hit with your preschooler.  With this game you add wooden pigs one at a time to see how many can be added before it falls over. This may be a little more difficult for young preschoolers, but older children will love the game. It takes practice and patience to slowly add the pigs.
Give each player the same number of pieces. The game is best played with 2 or 3 players. Then place the base on the center of the table. The youngest person goes first. Be the first person to place your last piggy piece without any falling and win! If during your turn any piggy pieces fall you must take those pieces and your turn is ended.
The game is a favorite for my daughter. She plays it daily and because the game is so fast pace it is a fun game to pull out just before dinner. The nice thing about Piggy Pile Up is she can play with it independently as well. As any parent of a preschooler knows, preschool games that a child can play with on their own, as well as with a parent are GREAT!  Piggy Pile Up encourages hand-eye co-ordination, problem solving, counting, concentrations and small motor skills.
The game includes 12 wooden piggy pieces, cardboard mud puddle base and rules.
I know your children will love the Preschool learning games at Getta 1 Games as much as we do. Whether you're looking for quality wooden games, exceptional educational games, or some cool and quirky Preschool learning games, Getta 1 Games  has them. Check them out today at http://www.getta1games.com.
Getta1Games Christmas Giveaway
We have partnered with Getta1Games and are giving one lucky Canadian the chance to win both games featured here. You must be 18 years or over to enter and must answer our mandatory question in the comment section. Good-luck everyone!