Wouldn't it be cool if you could pixelate any design you wanted with the use of innovative light technology? Well, now you can with the smART Pixelmator from Flycatcher Toys!
The smART Pixelator empowers kids to design and build 2D and 3D projects using Bluetooth connectivity, easy-to-follow lights, and smART Pixel Beads, sequins, or pegs. It is somewhat a combination of the Lite Brite and Perler beads of the 80s.
The smART Pixelator workstation base either plugs in or operates off of four C batteries, which are unincluded. Right, out of the box, you have a choice of creating 50 step-by-step designs using Pixel Beads. The smART Pixelator includes an SD card with 50 preloaded projects. Plus the power cord into the Pixelator, power it on, and insert the SD card. Ensure it is lined up and be careful inserting the SD card so as not to break the card.
Flycatcher also provides a convenient storage tray to hold your beads or pegs in. Also included is a tool to help you pick up the beads and carefully place them on the Pixelator screen.
smART Pixelator App
A smART Pixelator app and any mobile device also let you engineer your own projects, encouraging customization and experimentation. We used our Samsung Galaxy A50 Android Phone with the Pixelator. Download and install the Smart Pixelator App from the Google Play Store. Once installed you will be asked to either signup or log in to your flyfish account. We already have a Flycatcher account from the smART sketcher Projector we reviewed last year, so we proceeded to log in. Once logged in you're prompted to enable Bluetooth and location.
Make sure you are close to the Smart Pixelator to connect. Once you have successfully connected, the app will download 50+ pixel designs for you to choose from with an array of categories from easy to advance. Simply click your level of choice and select a pixel image design to start.
You can also take a photo of anything, and it will be converted to pixels. Simply click on the photo icon, take your photo, save the photo and it will be transferred to the Pixelator.
Making your bead art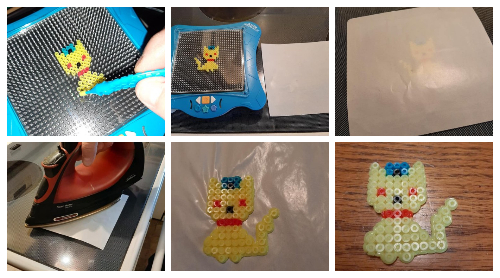 Once the image is completed, gently remove the tray from the smART Pixelator and place it on a heat-safe surface. Cover your image with the included ironing paper and iron the beads together until they show through the ironing paper. This is the same method as perler beads. Let cool and remove your image from the ironing paper. You now have a cool pixelated version of your image. For this review, we did a cat.
Why not extend the fun past beads and use the pixel pegs or sequins, sold separately in sets? There is also a bracelet creator set that you can purchase, allowing children to make their own bracelets. The smART Pixelator also allows you to make multiple pieces and then fit them together to make 3D models
The Pixelator is recommended for children who have a great deal of patience. And you also need a very steady hand to use the smART Pixelator. Miss P is six years old and though she found the Pixalator interesting, it didn't have her interest long. She was unable to keep her hand steady enough and kept knocking over the beads. It also takes a long time to complete a large project. For younger children, I do suggest starting with one of the 50 preloaded projects.
You can find the smART Pixelator on Amazon.com.

Shop Amazon
Flycatcher Inc., a tech company founded in 2013, mission is to help parents promote and develop their child's learning skills by creating toys that bridge the gap between real life and technology. Flycatcher Inc. is the proud creator of Painting Lulu, the award-winning paper-to-digital coloring book as well as the smART sketcher Projector, the first smart projector on the market aimed to help kids learn to sketch!