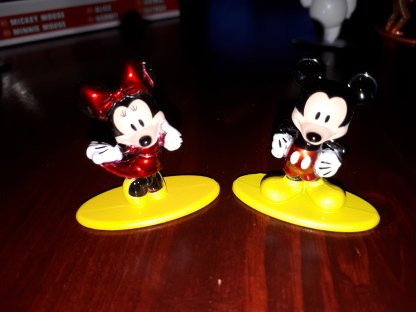 Nano Metalfigs is a brand new line of collectibles. Produced by Jada Toys, these small figurines, are made with 100% die-cast metal. Licenses include WWE, Streetfighter, Harry Potter, DC, Marvel, Halo and Disney, with new waves released every 60 days. Featuring authentic character likeness, these die-cast figures are sure to be a standout in any collection!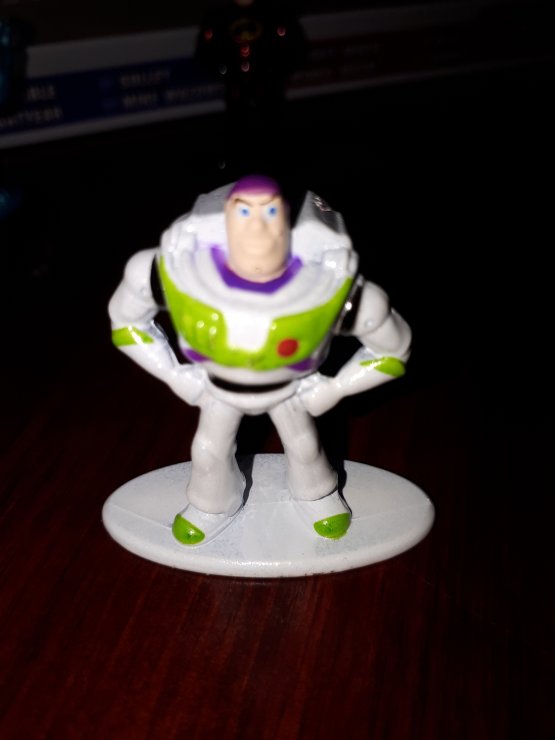 Pictured here are the Disney and Pixar Nano Metalfigs showing off their collectible 1.65" scale. Weighing in at around 25-30g each, each posed Nano figure weighs about the same as 5 quarters. They're small enough to carry in a pocket, but stilllook great on any shelf, or desk. Each figure is painted in metallic deco and includes a stand that is sculpted to the bottom of the feet.

Unlike in some sets which will give you a few beloved characters and fill the set with lesser known characters, Nano Metalfigs sets feature some of the most recognizable characters. Included in Nano Metalfigs Disney and Pixar 10 Pack : Mr. Incredible, Buzz Lightyear, Sulley, Mike Wazowski, Mickey Mouse, Minnie Mouse, Alice, Kermit, Animal,  and Baymax.
The 5-packs are broken down by Pack A and Pack B. Pack A includes Micky Mouse, Minnie Mouse, Alice, Kermit and Stitch. Pack B includes Mr. Incredible, Buzz Lightyear, Woody, Sulley and Mike Wazowski.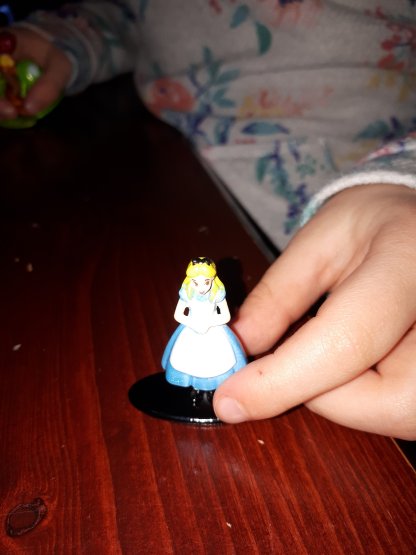 Jada Toys has managed to keep Nano Metalfigs at $0.99 per single pack and $4.99 for five-packs, which in my opinion is very affordable compared to some of the other collectibles out there.
Given the figures small statures, one would assume that the details on the figures would be lacking. That is however not the case. The likeness is amazingly detailed.
Overall,  Nano Metalfigs are perfect for kids and collectors of all ages. Seeing as this is a new line of collectibles, I would like to add a Miss Piggy to my wish list.
What do you think of Nano Metalfigs?
About Jada Toys, Inc.
Jada Toys, Inc. is a privately held leading manufacturer of authentically licensed and highly stylized die-cast collectibles, radio control vehicles, and toys. Popular brands produced by Jada include Metals, Cutie Pops, Battle Machines, Big Time Muscle, Just Trucks, and HyperChargers. Jada has also acquired major toy licenses for top brands such as Fast and Furious, Robocop, Marvel Entertainment properties, DC Comics and Entertainment, Universal Pictures, Guitar Hero, Halo, Disney, Teenage Mutant Ninja Turtles, Ghostbusters, Hello Kitty and more. Jada Toys' products can be found at major retailers and hobby stores worldwide.  For more information about Jada Toys and all its innovative products, please visit http://www.jadatoys.com