After the excitement of that must have toy from Santa wears off kids can have a blast with the board game you got them. When it comes to kids games,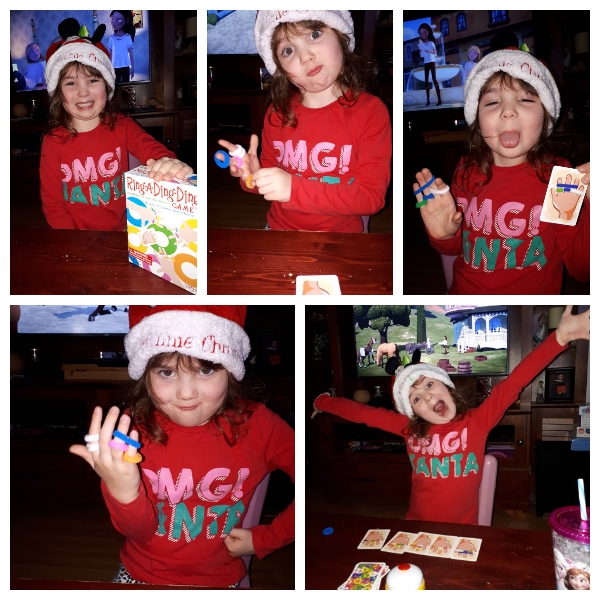 Amigo games makes some great games for Children. One of our new favorites is Ring-A-Ding-Ding, a fun dexterity game for children age four and up.
Ring-A-Ding-Ding includes 26 colorful stretchy bands similar to hair types, one bell, and 32 cards with different finger position patterns on them.
The oldest player flip over a card. All players then race to replicate the pattern on the card to their hand. The first player to position the bands on their hand in the correct order rings the bell.
If you copy the pattern successfully, you keep the card and win a point. The first player to collect five cards, wins the game.
For older children their is a more complicated game of play where players have five seconds to look at the card and then they have to try to replicate the pattern.
This is what five year old Miss P has to say about Ring-A-Ding-Ding.
Ring-A-Ding-Ding is a lot of fun. You have to put the rings on your finger by copying the card and then you ring the bell to beat your mom. The game can be a little hard. You need 5 cards to win. Guess who won?
And there you have it. Ring-A-Ding-Ding is fun for the whole family, but the kids in particular.
About Amigo Games
Founded in 1980, Amigo Games is a German game manufacturer, focusing on children, family, strategy, and card games. The company is known for producing games that feature high quality components, excellent game play, and themes that resonate with consumers all at a fair price. Amigo's games are sold in 38 countries worldwide.
www.amigo.games