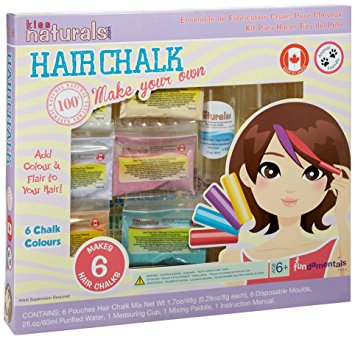 Kiss Naturals  DIY Craft Kits are locally made and produced in Canada and all the products are all-natural and have no added fillers, additives, dyes or synthetics. With Kiss Naturals DIY hair chalk kit it is super simple to make hair chalk right from home! The hair chalk kit comes with everything you need to make 6 chalks (each one a different color). Kiss Naturals Hair Chalk Kit gives your child's hair brilliant color, that washes out easily!
In the spirit of the upcoming holiday season we have partnered with Kiss Naturals and are giving one lucky Canadian reader the chance to win a Kiss Naturals Hair Chalk Kit. You must be 18 years or older to enter.
If you don't have any kids to gift it to, perhaps you can enter and donate it to a Christmas sharing program in your area should you win. Good luck everyone.