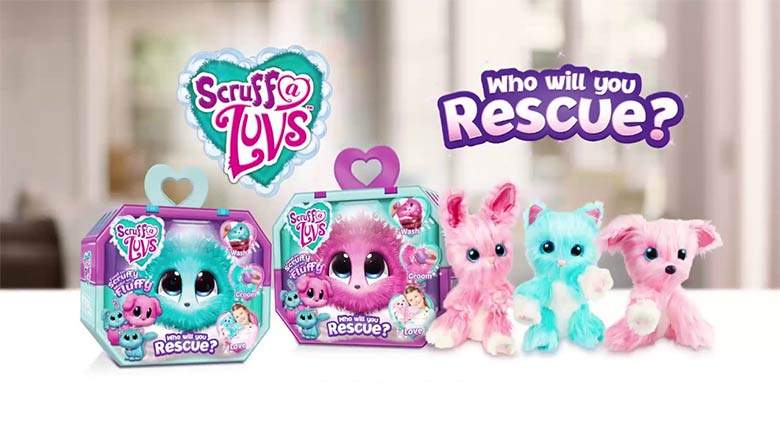 Unwrap play this holiday season with Toys"R"Us Canada's hottest toy of the year! With 25 days left until Christmas parents and gift-givers everywhere can count on Little Live Scruff-a-Luvs to create special moments this holiday season. In fact a fellow dance mom asked me in October what I thought the hottest toy was going to be. I told her I was betting on Scruff-A-Luvs. Wouldn't you know I was right.
Scruff-a-Luvs was recognized in TTPM's list of the Most Wanted Holiday Toys for 2018, named one of Good Housekeeping's Best Toys of 2018" and featured in Amazon's list of the Top 25 Holiday Toys this year.
If you have yet to order one, you are going to want to head over to the Toys R US  or  the Showcase website right now and order one.  They are selling out quickly, but stores are restocking for now.  But I don't advice waiting until the last minute. Just look at what happened with Fingerlings last year, and Hatchimals the year before. If you haven't heard of Scruff-a-Luvs, let me tell you all about them.
Each Scruff-a-Luv comes in a package that resembles a pet carrier. When children open the package they will find inside a ball of matted fur. To reveal the adorable pet your child will have to wash the matted ball in a sink of water. Once washed, rinse off in clean water at least once. Tip: Feel free to use child-friendly soap or body wash, but remember to rinse thoroughly. While your child will know what color Scruff-a-Luv they are getting, the breed is a total surprise.
Dry your Scruff-a-Luv
After rinsing, be sure to squeeze out all the access water. Make your Scruff-a-Luv warm and dry by thoroughly drying it with a large towel, followed by drying with a hair dryer – just like a pet salon! (Mom or dad may need to help here.)
Groom your Scruff-a-Luv
Each Scruff‐a‐Luv comes with a collar, name tag, adoption certificate, brush and hair clips. When grooming be sure to use a large hair brush to remove tangles, then use the Scruff-a-Luv brush to finish the grooming. Add their collar and special hair clip.
Scruff-A-Luvs
Your child can now give their new pet a  special name and write it on the included name tag. Just like a real pet, Scruff‐a‐luvs can be washed over and over again. There are six different Scruffs in series one to adopt. Animals available are plush kitty, puppy, or bunny
Scruff-a-Luv gives parents a chance to teach children about pet rescue. In my opinion it makes a wonderful gift. I know that MIss P will be super excited to open her Scruff-a-Luv  come Christmas morning.
Toys R US  has some Scruff-a-Luvs back in stock and I was lucky enough to order one from Showcase last week.  But you best hurry and get them now so you don't have another Fingerlings situation on your hands as we countdown the days until Christmas.
About Moose Toys
Moose Toys exists to make children happy. The team has innovation in their DNA and are famous for the design, development and manufacture of award winning toys that continue to disrupt the market! Moose Toys dominates in categories including collectables, craft, dolls, games and youth electronics and is consistently recognised as the most creative company in the industry.
The family run business disrupted the toy industry with the global phenomenon Shopkins and through these pintsized characters, reinvigorated the way children play. The success of the company extends to the development of content, entertainment and global licensing deals. Moose calls Australia home, has over 400 staff and distributes to over 100 countries.