Fear of the dark is one of the most common fears of children. While most children overcome their fear of the dark by age 4 or 5, it not uncommon for some
children as old as 8 or 9 to still have fears of the dark. Make bedtime fun for your children with LumiLuvs Night Lights, an all new bedtime companion. LumiLuvs are cute collectible characters that light up when children give them a kiss.
Recommended for children three and older LumiLuvs Night Lights comes complete with sleepy noises and a 10 minute auto shut-off feature to preserve battery life. Therefore, you don't have to worry about the light keeping your little one awake. To turn it back on children simply give it a kiss or they can place their hand over the sensor. When lit it is the characters face that emits a glow. I do wish the timer was longer as it takes my daughter longer than ten min to fall asleep.
LumiLuvs Night Lights also make for the ideal traveling companion for children. If you are a parent who does a lot of night time driving with your child(ren), especially around the holidays then you will appreciate LumiLuvs. The light is not too bright too distract the driver.
Lumiluvs are 100% battery-operated, eliminating the worry of cords or charging stations. 3 watch batteries are required. LumiLuvs Night Lights feature an off switch to preserve battery life when not in use.
With 8 adorable characters to collect, Lumiluvs are both a play light and a nightlight. They are perfect for nap time, bed time, car rides, sleep overs, or just relaxing on the couch while you read your child a book.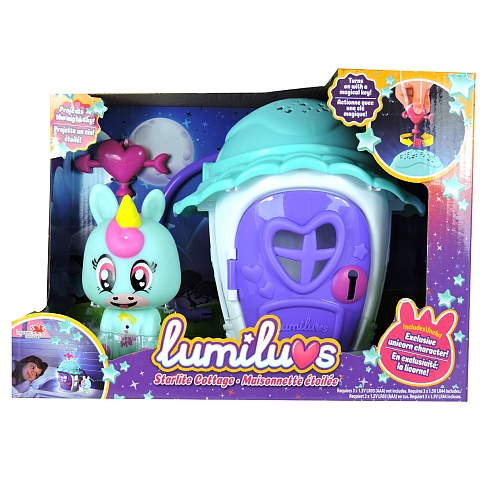 Give your LumiLuvs Night Lights a cozy home with the Starlite Cottage! This lantern house projects a dreamy night sky on your ceiling when you insert the magical heart key which is also a necklace! Then kiss your LumiLuv goodnight and place it inside, so you can both rest easy and dream bright!
LumiLuvs Night Lights are available at Toys R Us and Amazon.ca.
Imports Dragon (importsdragon.com) is the distribution and manufacturer company of LumiLuvs Night Lights in Canada.
Shop Amazon