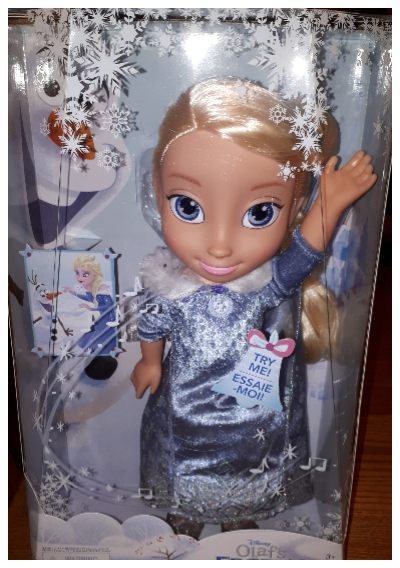 When it comes to toys Frozen toys merchandise consistently tops "hottest toys" lists.  Frozen is sure to heat up the 2018 holiday season. It is hard to believe that it has been five years sense the release of Disney's Frozen. Nonetheless,  Frozen toys are still popular among girls. This holiday season relive all the magic of Frozen with "Disney Frozen Singing Elsa Doll" from JAKKS Pacific.
This 14 inch Elsa doll re-imagines the character of Elsa as a toddler. She is wearing the character's blue dress as seen in the animated short Olaf's Frozen Adventure. Elsa's new light up dress has beautiful glittering details. Elsa also sports a snowflake cape with a faux fur collar.
Raise Elsa's left arm and sing along to the new feature song, When We're Together. Elsa also says 16 different phrases.
Disney Frozen Singing Traditions Elsa Doll makes the perfect gift for any Frozen fan or little girl who loves Disney princesses.
About Olaf's Frozen Adventure Short Film
"It's the first holiday season since the gates reopened and Anna and Elsa host a celebration for all of Arendelle. When the townspeople unexpectedly leave early to enjoy their individual holiday customs, the sisters realize they have no family traditions of their own. So, Olaf sets out to comb the kingdom to bring home the best traditions and save this first Christmas for his friends."
New Frozen 2
Frozen is Disney's biggest hit since Lion King, which was released in 1994. My daughter is a huge frozen fan. She loves Frozen so much that last years birthday was Frozen themed. The news that a Frozen 2 sequel is coming was met with huge excitement in our home. Sadly my five year old and other Frozen fans will have to wait until Nov 2019 to see it. But, I am guessing if Frozen 2 is anything near as popular as the 2013 movie, then I can see another Frozen frenzy on our hands come 2019.
Visit at www.jakks.com and follow them on Instagram (@jakkstoys), Twitter (@jakkstoys) and Facebook (JAKKS Pacific).
Shop Amazon for the Best Frozen Toys