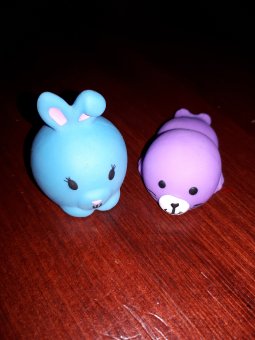 Kids love small collectibles and squishy toys seem to be all the rage with kids these days and you can bet Children are asking for them for Christmas. JigglyDoos from Jakks Pacific are all new soft, squishy and jiggly character collectible. Unlike Jakks Pacific popular Squish-Dee-Lish line, JigglyDoos characters have a more gelly feel to them,  similar to the mochi squishy toys which are currently popular in Japan.
If you have a child obsessed with the Squish-Dee-Lish line then I assure you JigglyDoos  will be a win too.
Their rubbery texture can be squeezed, stretched and when you shake them, they wiggle and jiggle. There are a total of 32 JigglyDoos to collect, including a unicorn, bunny, kitten, narwhal, tiger, and bear so you know that kids are going to want to collect them all.
They also make a great fidget toy. Of course like with other collectibles, JigglyDoos are perfect for pretend or make believe play.
Jigglydoos come in 2 pack or in play sets. JigglyDoos Lounge Set with Figure is an adorable 5pc. set that includes a rocking couch and chair set, an exclusive JigglyDoo friend, small drink and popcorn.
If you are looking for an affordable little gift or stocking filler but don't want to spend a lot JigglyDoos are such a great choice!
About JAKKS Pacific, Inc.
JAKKS Pacific, Inc. (NASDAQ: JAKK) is a leading designer, manufacturer and marketer of toys and consumer products sold throughout the world, with its headquarters in Santa Monica, California. JAKKS Pacific's popular proprietary brands include BIG-FIGS™, XPV®, Max Tow™, Disguise®, Moose Mountain®, Funnoodle®, Maui®, Kids Only!®; a wide range of entertainment-inspired products featuring premier licensed properties; and, C'est Moi™, a youth skincare and make-up brand. Through JAKKS Cares, the company's commitment to philanthropy, JAKKS is helping to make a positive impact on the lives of children. Visit at www.jakks.com