PlaSmart, which specializes in making toys that develop motor, dexterity and problem-solving skills has just the Christmas gift for kids that love to dig in the dirt.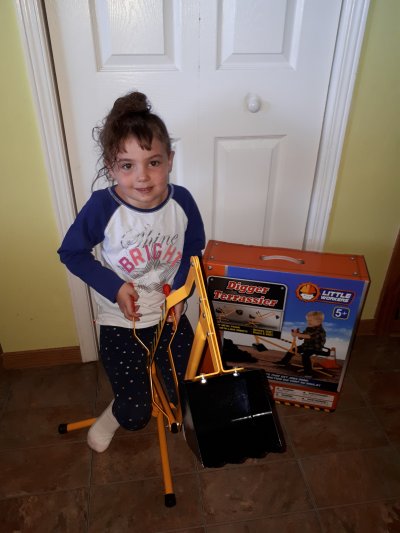 The PlaSmart Little Workers Digger works like a real backhoe! Now your child can control the levers, pivot, dump and scoop just like a real construction worker.
Similar to the diggers you see at parks the Little Workers Digger is made of a heavy duty steel. Children use the two-handed controls to dig, scoop, and lift dirt, sand or snow, then swivel the seat to deposit loads where they wish. It rotates all the way around (360 degrees)! The two-handed controls help kids learn manual dexterity and improve hand-eye coordination.
Weighing just 11.9 pounds, in the box, the chair can be easily picked up and moved. The sturdy design supports even the most active children.
Parents will be pleased to know that the Little Workers Digger meets and exceeds all US and Canadian safety standards; CPSIA, CCPSA and ASTM certified. The Little Works Digger has a wide base and supports kids up to 110 lb.
You can easily set up an area inside the house and use foam balls so your child can play with their new little workers digger indoors. Don't forget to purchase a construction hat!
Some assembly of the Little Workers Digger is required. It is pretty straightforward and took my husband about 15 min to assemble.
Whether the job is in the back yard or in the playroom they will be ready to play with the PlaSmart Little Workers Digger. Take it from me, girls will enjoy the digger just as much as boys.
"Children learn as they play. Most importantly, in play children learn how to learn." -O. Fred Donaldson
About PlaSmart Inc.
PlaSmart is a global toy distributor specializing in smart, simple, and fun products that bring families together. PlaSmart's products include the popular Plasma family of riding toys: PlasmaCar, PlasmaBike, and the new PlasmaBug; Ninja Cards, Morphology, Squashed and many other popular children's toys and games. PlaSmart's products are available on five continents and in more than 60 countries.For more information visit www.plasmarttoys.com