If you have girls entering the tween or teen years they can be hard to shop for at Easter. Besides getting them their favorite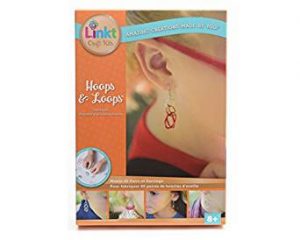 chocolate treat, why not get them a craft kit that teaches them a new skill. Neat-Oh Linkt Craft Kits are a fun project for tween girls! Each kit includes everything they need to complete multiple chainmaille jewelry projects. With each of the 12 kits available you can start making  chainmaille jewelry in 30 minutes or less. The craft kits are recommended for children age 8 years and up.
If you never heard of chainmaille it is the ancient craft of linking small metal circles together to form armor or jewelry.
Neat-Oh Linkt® Craft Kits are created by Neat-Oh! International, a specialty toy manufacturing company, and Rebeca Mojica, founder of Blue Buddha Boutique.
Thanks to Rebeca Mojica, with the Neat-Oh Linkt Craft Kits you learn a simple chainmaille technique to make each piece. Rebeca Mojica is an award-winning jewelry artist, instructor and best-selling author who has been designing chainmaille jewelry since 2002.
Neat-Oh Link Craft Kit Hoops & Loops
I recently tried the Neat-Oh Link Craft Kit Hoops & Loops, which allowed me to make several pairs of chainmaille earrings. The kit
includes hundreds of rings (metal and silicone), 1 magic layout tool, bonus charm project, ring color personality list and easy to follow instructions. The Ring Color Personality List adds a fun element to each design because the colors you pick can reflect your own personality or that of your friends. You can also find various free video instructions on the Linkt Craft Kits channel.
The metal in the kits is soft enough to be manipulated by hand so no pliers are needed. The first earrings I made were the coiled earrings, which were pretty simple to make. You simply scoop to open the large hoop ring and scoop the rubber rings onto them. I added 12 rubber rings on the large ring, but feel free to play around and add more.
I find the kit fun and easy to complete. For me it was a fantastic tool to improve my object manipulation and hand-eye coordination.
The only negative thing I have to say about the Neat-Oh Link Craft Kit Hoops & Loops is I did find the earrings come apart easily. Perhaps the quality of the metal hoops are too soft as they don't seem to line up well. I wish the set had of came with a tool to help clamp the hoops shut tightly.
Overall though, Neat-Oh Linkt Craft Kits make an excellent beginner's project for teens, or even adults like myself who are new to chainmaille jewelry making. There is a joy and feeling of accomplishment when you see your finished piece of chainmaille jewelry.
You can purchase any of the Neat-Oh Linkt Craft Kits via walmart.ca, or Amazon.ca.
With over 75 awards and endorsements from parents across the globe, Neat-Oh!® products are recognized for superior quality workmanship and materials.
Website: http://neat-oh.com