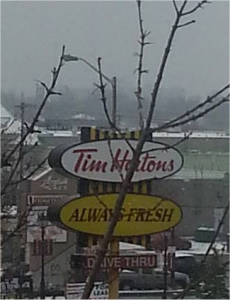 For many Canadians, the day doesn't start until they've had their first-morning cup. If you are looking for the perfect gift for the coffee lover on your list then you might be pleased with this season's holiday offerings from Tim Hortons. They are reasonably priced, so last-minute shoppers don't have to panic about finding those last-minute gifts. With more than 3,000 restaurants across Canada, and many open 24/7, Canadians can rely on Tim Hortons to help make holiday shopping easier with Tim Hortons Holiday Merchandise.
.
These gifts can be mixed and matched to fit any budget. They're also an affordable and easy-to-ship gift option for family and friends abroad, providing a little taste of home when it's needed most.
Recently Tim Hortons introduced a new flavor of coffee. After years of its original blend, they have entered the dark side. The new addition, made from Arabica beans, marks the first time in the chain's 50-year history that Tim Hortons has offered any coffee apart from its usual blend. The dark roast blend was tested in London, Ontario, and Columbus, Ohio, and received favorable reviews before being released to 4,500 locations. The new blend offers hints of citrus, cocoa, and earthy tones with a rounded body. As with most other Tim Hortons coffee products, the dark roast is available in a variety of "brew-yourself" sizes.
Tim Hortons Dark Roast Single Serve Coffee Cups (14-Count): full-flavored dark roast coffee compatible for use in select Keurig® K-CUP® machines to bring the taste of Tim Hortons home are available for 9.99 and make the perfect gift.
Just in the nick of time, Tim Hortons has released their annual limited edition mugs and tree ornaments. Available at restaurants across Canada, everyone from teachers, to mail carriers,  will appreciate these fun holiday items.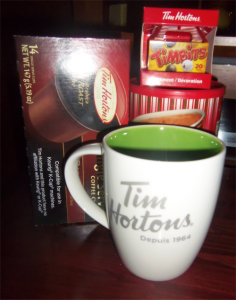 Fill a stocking or top a gift with Tim Hortons Holiday Ornament. Tim Hortons Timbit Tree Ornament is just the thing to show off your holiday spirit and love of Tim Hortons ($5.99).
New limited edition Tim Hortons ceramic coffee mugs are the perfect gift for the coffee lovers in your life.  The new limited edition mug comes in three bright, cheerful colors and is dishwasher and microwave safe. ( red, green, and blue.) Available while supplies last at most full-service Tim Hortons restaurant locations $8.99.
Enjoy the great taste of Tim Horton's holiday favorite at home.  Candy Cane Hot Chocolate is available again this year ($4.69).
A gift set featuring Tim Hortons Dark Roast Single Serve Coffee Cups (14-Count), Tim Hortons Holiday Ornament,  a  can of Candy Cane Hot Chocolate and a new limited edition Tim Hortons ceramic coffee mug is only $29.66; perfect for any unexpected or last-minute gift you may need.
Holiday edition Tim Cards are also available in a variety of denominations and are perfect for the coffee lovers in your life.  Available at any restaurant.
Tim Hortons annual holiday cups have also arrived, dressed for the season and, for the very first time, feature a celebratory hashtag – #WarmWishes.  To celebrate the warm and cozy cup, which comes in a variety of festive sweater designs – one for each size cup – Tim Hortons is launching a social media campaign using the new #WarmWishes hashtag to encourage Canadians to do good for others in an effort to help spread some warmth this holiday season. To participate in the campaign, and to help Tim Hortons reach its goal of providing up to 10,000 children with a warm and cozy toque, guests can share their good deeds with @TimHortons on Instagram or Twitter using the #WarmWishes hashtag. Guests are also encouraged to visit TimHortons.com/WarmWishes to view photos from other Canadians who have shared their #WarmWishes.
ABOUT TIM HORTONS INC: Tim Hortons is one of the largest publicly-traded restaurant chains in North America based on market capitalization and the largest in Canada. Operating in the quick service segment of the restaurant industry, Tim Hortons appeals to a broad range of consumer tastes, with a menu that includes premium coffee, espresso-based hot and cold specialty drinks including lattes, cappuccinos, and espresso shots, specialty teas, fruit smoothies, home-style soups, fresh Panini and classic sandwiches, wraps, hot breakfast sandwiches, and fresh baked goods, including our trademark donuts. More information about the Company is available at www.timhortons.com.Follow Tim Hortons on Twitter: www.twitter.com/timhortons.