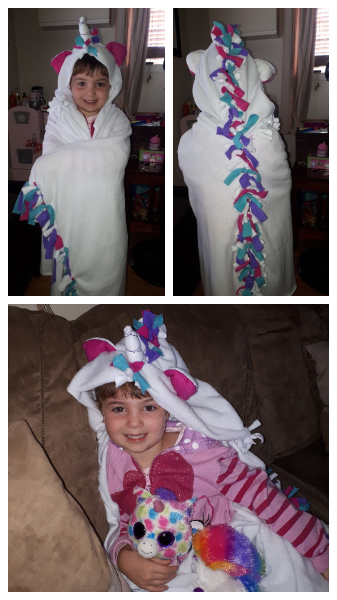 Get ready for cool Fall breezes and cold winter nights with the Make It Real Unicorn Hoodie Blanket. What could be more magical? This hands-on, tie blanket project makes for a quick and easy activity with a child and makes the perfect holiday gift.
The kit includes everything your child needs to make their very own Unicorn Hoodie Blanket. Each kit comes with 10 pieces of pre-cut fleece, 57 fleece fringes as well as a needle with thread, a threader, plastic thimble, metallic thread and polyester filling. This kit also comes with an easy to follow introductory guide as well as a Dream Guide, which focuses on women working in creative industries.
The Unicorn Hoodie Blanket helps children develop fine motor, visual, and general motor skills – all while creating something they'll love!
Sewing will allow your child to further express their creativity while developing critical fine motor skills.
Our Thoughts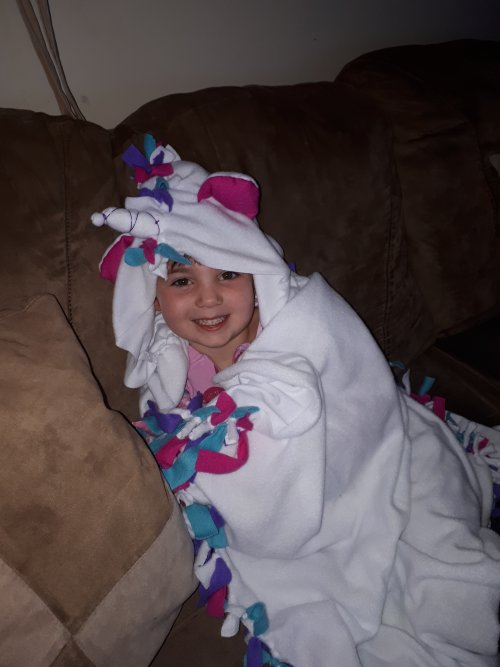 Overall the DIY unicorn blanket is the cutest thing we've seen in a long time. I love that it was a an inexpensive project that my daughter will get lots of use out of.
Our daughter is almost five, so was unable to make the blanket on her own, so we made it for her.
The Make It Real Unicorn Hoodie Blanket can take up to three hours to complete depending on skill level. It is also a bit more difficult than making a simple no-sew fleece blanket. The unicorn hoodie design does require some basic sewing. Children may need help with features like the horn and the ears.
This holiday season bring the joy of crafting to someone on your holiday gift giving list. If your child is too young to create the Make It Real Unicorn Hoodie Blanket, you can always purchase the kit and create a blanket for them.
If they're not into unicorns, Make It Real also has a Mermaid blanket you can try.
Make it Real's fashion craft kits encourage both creativity and customization. If you are looking for a Christmas gift idea or a craft project for your little one consider Make It Real. They have several kits that will provide hours of creative fun for your child.
About Make It Real
Make It Real manufactures and distributes beautiful, compelling product for tween girls around the world.   Make It Real gives girls a window into the real world of design and creativity. www.makeitrealplay.com
Shop Amazon