Have you experienced the latest toy collection trend? Standing only a few inches tall, Fash'ems, are cute, rubbery, jiggly, squeezable, squishy collectible toys .
They are available in girl's favorite characters, such as My Little Pony, Barbie and Littlest Pet Shop.
Filled with a liquid substance, Fash'ems are super soft . When you squeeze them they "smoosh" out like a miniature stress ball. Kids can smash them, smoosh them and twist them.

The toys are the perfect size for little hands to grip, manipulate, and take with them wherever they go.
Fash'ems are rated for 4+ years, however they would be ok for children as young as three, as long as they are pass putting stuff in their mouth.
Miss P is specially fond of the My Little Pony Fash'ems and Littlest Pet Shop.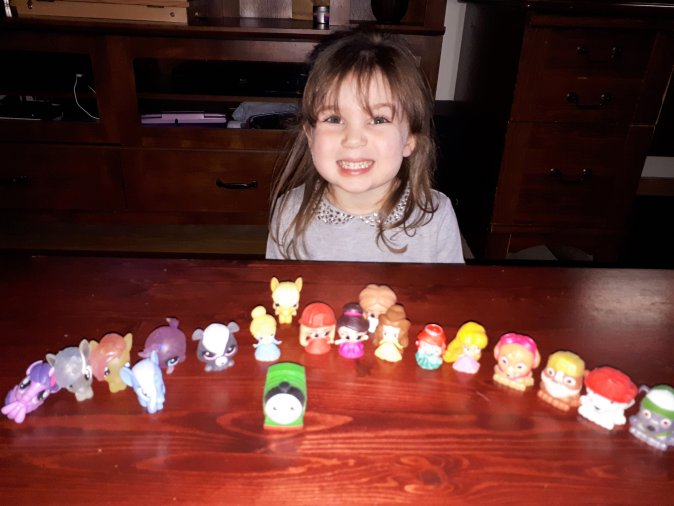 Because they are squishy, they can sometimes get a bit of pet hair or dirt on them after a play. To clean, simply wash them with warm water. They are made of a substance called thermo plastic rubber, which is rated non-toxic and not a latex or rubber allergen.
Fash'ems are available for purchase in packaging that reveals the toy you're going to get, and in blind bags or capsules.
The mystery capsules make perfect stocking stuffers. Each mystery capsule includes a surprise character inside. My daughter just loves that moment of discovery when she finds out which character is inside.
The tiny collectibles would also be perfect in a theme gift basket, or as a part of a larger Christmas gift. Their affordable price point makes it easy for kids to collect more than one line of Fash'ems characters.
Mash'ems
and Fash'ems are available at major retailers and as well as on Amazon! The Mash'Ems function just like the Fash'Ems, however they come in different characters, such as PAW Patrol, Disney Pixar, and DC Comics.
 
Website: http://fashemsfun.com/
About Basic Fun
Basic Fun! is a trendsetter in developing and marketing children's entertainment products. This is done through close partnerships with proven industry leaders and by providing our customers with outstanding value.