Easter is just over two weeks away. If you are wondering what to put in the plastic eggs for the Easter egg hunt, Fash'ems and
Mash'ems single packs are the perfect filler.
If you have never heard of Fash'em or Mash'em, then you have been missing out!
Fash'ems, are cute, rubbery, jiggly, squeezable, squishy collectible toys that come in some of your daughter's favorite character, such as Doc Mcstuffin, Sophia the 1st, Frozen, My Little Pony, Hello Kitty and Littlest Pet Shop. They are super soft and when you squeeze them they "smoosh" out like a miniature stress ball, that can be smashed, smooshed and twisted.
Mash'ems are like Fash'ems, but are marketed to boys'.  Available characters include Angry Birds/Angry Birds Space, Furby, Marvel Avengers, Marvel Universe, Moshi Monsters, Power Rangers, Smurfs, TMNT, and WWE.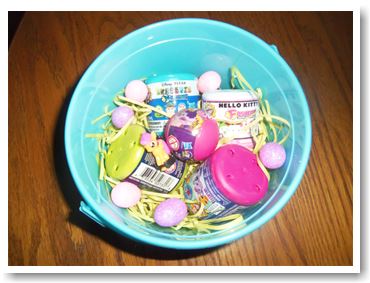 Fash'ems and Mash'ems make perfect Easter basket fillers too. Each mystery capsule includes a surprise character inside and kids just love that  moment of discovery when they find out which character they have.
Because Mash'ems and Fash'ems, are squishy, they can sometimes get a bit of pet hair or dirt on them after a  play. To clean, simply wash them with warm water.
Mash'ems and Fash'ems, come in a single container, single blister, 2-pack blister, fashion blister or value pack blister (all 6 figures).
If you have a My Little Pony fan in your house, then you will want to add a squishy pop or two to her Easter basket. A squishy pop is like a miniature fash'em with highly detailed paint, they are soft and squishy and feature a suction cup on their feet that "pops".
In this age of technology, let your child(ren) rediscover the fun of a simple toy with these suggestions from Tech 4 Kids and Today's Woman.
T4 Kids, is a privately owned Canadian company, has been designing, developing, manufacturing, and marketing children's toys in over 60 countries worldwide since 2009. With offices in Hong Kong and Toronto, Tech 4 Kids is renowned for combining great licenses with innovative product concepts.
The company maintains a strong, exponentially growing portfolio of intellectual properties based on unique proprietary product design including: Outer Edge, Spot Lite, 3D Magic, Lite Force, Outer Active, Mash'Ems, and Eggtopia. All Tech 4 Kids products are safety tested with third party accredited labs to ensure the highest manufacturing and safety standards are met.
As members of the TIA (Toy Industry Association) and the CTA (Canadian Toy Association), Tech 4 Kids is committed to the highest ethical standards by only working with factories that adhere to the ICTI (International Council of Toy Industries) Care program. For more information, visit: facebook.com/tech4kids, twitter.com/techfourkids, youtube.com/tech4kidsonline.
Website: Tech4Kids.com