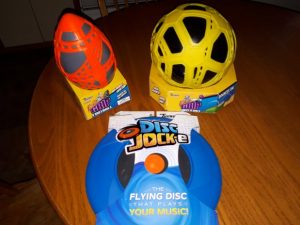 With so many electronics on the market today geared to our children there is a growing concern about getting kids outdoors and more active. If you need some inspiration on what to buy your child or teen this Christmas that will get them outside and having fun might we suggest the E-Z grip line of sports balls from Tucker Toys. What makes the E-Z Grip line perfect is the super tactile grip, along with the ability to bounce anywhere – on water, sand, grass and street! The wide age range of E-Z Grip balls makes them fun for not just younger children, but teens and adults as well. All of the E-Z Grip balls are special needs approved.
E-Z Grip is available in 4 different varieties: Play Ball (6.5″ diameter), Jr. (4.25″ diameter), Soccer (8.25″ diameter) and Football (9″ length).
The E-Z Grip Soccer Ball
Designed for E-Z control, goal stopping and kicking velocity comes E-Z Grip Soccer Ball. The rubber texture gives young players added foot control and for older kids low-impact heading. The lightweight and super bounce makes the ball travel down the field farther and faster. For goalies, the special high-grip outer web provides ultimate practice for catching.
E-Z Grip Ball
As with any other skill, catching a ball is something that takes practice. Teach your child how to catch a ball with the E-Z Grip ball from Tucker Toys. The 6-inch ball features a soft, tough, outer web that makes it much easy for throwing and catching! Not only can you throw it, and catch it, but you can also bounce it and kick it.
Inside is a durable, inflatable inner ball. This is a ball that really provides endless open-ended play. The multi-functionality of this toy gives kids no excuse to not bring this everywhere  they go. And because the ball is easy-to-grip, the E-Z Grip Ball is ideal for my daughter to develop hand strength, hand and eye coordination and dexterity.
E-Z Grip Football
The E-Z Grip Football provides the best grip for one-handed catches in any weather, in the pool or on the muddy field. It's also great for teaching young, new Wide Receivers how to master the catch!
E-Z Grip™ Jr. 4″ Ball makes catching simple, even for the smallest of hands! Great for toddlers and fits easily in a bag for on the go fun.
E-Z Grip Play Ball is designed for E-Z catching, throwing and kicking!
What do you think about E-Z GRIP?
About Tucker Toys:
Tucker Toys, based in Hamilton, NJ, brings to market a line of toys with far wider ranges of use, spanning all ages and transforming almost all environments into playable ones. Tucker Toys evolved from marketing only through a few international distributors to nearly 50 countries currently with a strong public outreach, engaging kids and families directly.
Every toy created by Tucker has received awards from various prestigious organizations including Mom's Choice, Parents' Choice, The National Parenting Center, The Toy Insider and veteran toy marketer Einstein, da Vinci and Goldberg. Most recently, two of Tucker's toys received special needs approval by AblePlay, a division of Lekotek, proving the versatility of Tucker's toy innovation that brings value to parents and benefits to children across the spectrum. Products from Tucker Toys include the internationally award-winning Phlat Ball®, Crush-It!™ Bat, Zoingo Boingo™ Pogo, and the ZB Freestyle™ Board, a high-bouncing action sports toy ideal for skateboarding and parkour enthusiasts.