With Christmas right around the corner, why not invest in a gift that the entire family can enjoy? A Karaoke machine is a great way to bring the family together. Create lasting memories with your family this holiday season with Singing Machine Kid's Pedestal Karaoke System, one of our favorite karaoke machines.
Singing Machine Kid's Pedestal Karaoke System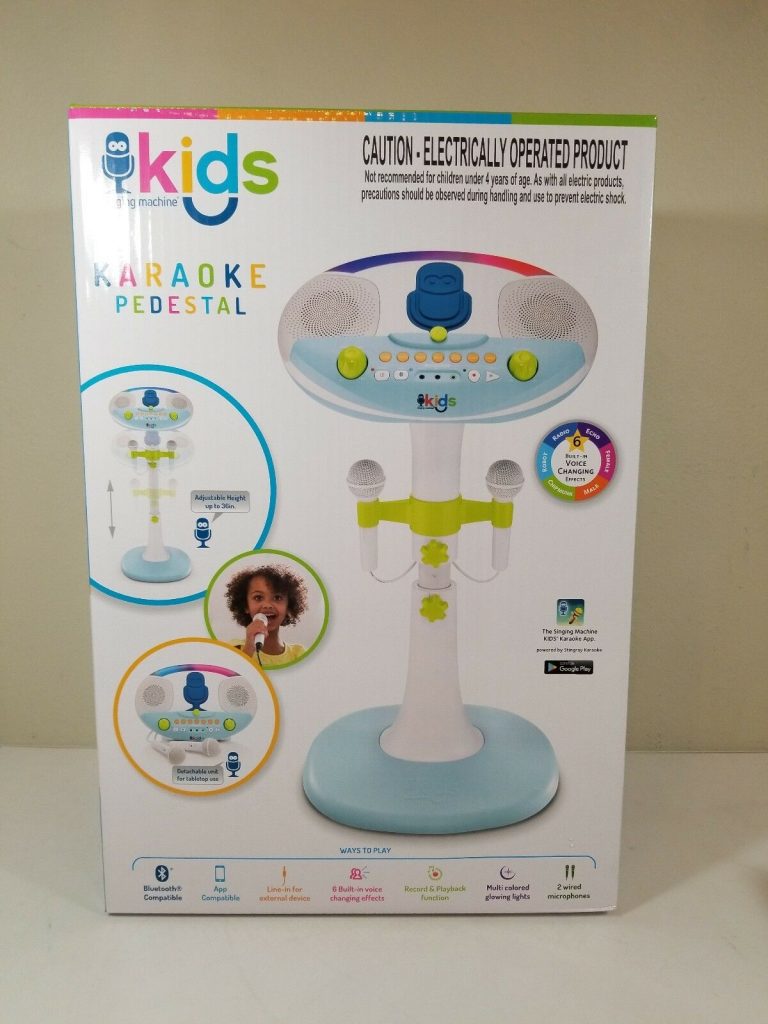 Your child will feel like a real superstar with the Singing Machine Karaoke System. A great addition to any home the Singing Machine Karaoke System provides wholesome musical entertainment for the entire family. The Singing Machine Karaoke System is a breeze to build too. With interlocking parts, you can assemble the base with a simple click-and-lock system. No tools are needed, to put the singing machine base/tripod together. It has three main parts, floor base, mid-base stand, and top mid-base mount.
The top base mount has two built-in microphone holders and holds the main Karaoke unit with easy clip-on and release clips on the bottom of the unit. The Karaoke Unite safely holds your tablet in place with a spring-loaded clamp.
With the Tablet mount your kids can now follow along and sing to their heart's content. Your kids will love the fact that they can bring the show on the road. If your kids want to take it to a friend's house they can. The Karaoke Machine detaches from the tripod base so you can take it anywhere.
The Singing Machine Karaoke System is so much fun; you'll want to join in. It has six different voice-changing affects. It has Echo, Male, Female, Robot, Chipmunk, and even Radio so you can sound like a broadcaster or radio personal. And if your kids are serious about their singing, the system also includes a built-in recorder allowing them to play back their performance.
It also includes a line-in to connect to your personal smartphone, tablet, MP3, or other audio devices. And it does include two microphone jacks for duets. The sound quality is top-notch, too.
If you don't want to use the line-in option, you can use the Singing Machines' built-in Bluetooth function for wireless audio streaming from your compatible devices. It also features a dedicated microphone volume control, so that you can control the main volume level. The Singing Machine Karaoke System plugins with an AC/DC adapter or uses 4 C batteries. If you decide to use the battery option, it does have an auto shut off to preserve battery life.
Parents can download the Free Singing Machine Kids Music App to get free songs. Or you can get additional songs for a one-time fee.
There's plenty of fun to be had with the Singing Machine Karaoke System. Your kids are sure to become the life of the party! Not only is karaoke a great way for kids to let off extra energy, karaoke is also a helpful tool in teaching your child to read. A karaoke machine will also build confidence and fine motor skills. I see my daughter and I belting out a few duets this upcoming Christmas.
CARPOOL KARAOKE
The Carpool Karaoke The Mic is the perfect gift, especially during the holidays since so many people travel. Why not travel with a fun microphone made for traveling? The setup is super easy. Simply find an open station on your radio and match the station on The Mic. Next, pair your mobile device to The Mic via Bluetooth, and voilá, you are ready to sing along to your favorite Christmas tune from your karaoke or music app of choice through your car's speakers! Up your performance with echo effects and with lights that synchronize with your music. There is also a built-in rechargeable battery that lasts up to 6 hours of continuous performance. The Mic is intended for passenger use only.
About The Singing Machine
Based in the U.S., Singing Machine(R) is the North American leader in consumer karaoke products. The first to provide karaoke systems for home entertainment in the United States, the Company sells its products worldwide through major mass merchandisers and online retailers. We offer the industry's widest line of at-home karaoke entertainment products, which allow consumers to find a machine that suits their needs and skill level. As the most recognized brand in karaoke, Singing Machine products incorporate the latest technology for singing practice, music listening, entertainment, and social sharing. The Singing Machine provides consumers with the best warranties in the industry and access to over 13,000 songs for streaming and download. Singing Machine products are sold through most major retailers in North America and also internationally. See www.singingmachine.com for more details.
Shop Amazon for a KARAOKE Machine