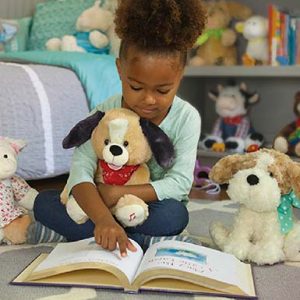 Bring instant fun and laughter into your home this holiday season with Cuddle Barn animated musical plush. Cuddle Barn is the industry leader in animated musical plush toys with each one being made of high quality. Their plush feature popular songs from everyone's favorite classics to contemporary hits, along with many popular children's tunes.
Cuddle Barn has a wide assortment of animated musical plush toys. Some of them sing and dance, some tell stories – while others make animal sounds. You are sure to find the perfect gift selection for those young and old.
Crackin Up Coco
Why not add a sweet spin on playtime with Crackin Up Coco. Press his foot, and Coco wiggles around in a circle while making silly monkey sounds. Coco has super-soft shaggy fur, velvety features, and a cute curled tail.
While he may not be as famous as everyone's favorite monkey who is known for his curious nature and his excited chatter, we are sure your little one will love Crackin Up Coco just the same. He's a very active little monkey, and my friend's grandson just loves him- even if he isn't George.
Crackin Up Coco makes a great gift for people of all ages, not just children. Just check out the video below to see him in action.
Dalton the Story Telling Dragon
Every child loves to cuddle up with a favourite soft toy and listen to a story. What if the stuff animal was actually telling the story? Dalton the Story Telling Dragon is the newest creation from Cuddle Barn and he is absolutely adorable.
When you squeeze his hand he will recite 5 classic fairy-tales.  Fairytales included ~ "Hansel & Gretel", "Jack and the Beanstalk", "Rapunzel", "The Ugly Duckling", and "Sleeping Beauty." Dalton is 12″ high in his sitting position.
He sways as he recites the classic fairy tales. Even his book lights up.
Christmas Animated Musical Plush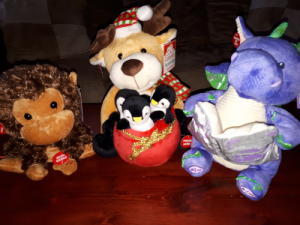 Cuddle Barn has an adorable range of animated plush Christmas toys to decorate your home for the holidays. Seasonal animated plush toys include Toothless Tommy- a 12″ Elf that dances and moves his hat to "All I Want for Christmas is My Two Front Teeth," and Santa's little helper- an adorable puppy that trots and shakes his hips to "We Wish You a Merry Christmas."
My personal favorite from the Christmas collection is Rudy & The Jingles. Nice and rosy, comfy and cozy—Rudy and his jolly Jingles snuggle up together in a caroling trio. Just touch the button on Rudy's hoof: his cheeks light up, his head sways, and the Jingles Penguins jump and sing to the song, "Sleigh Ride. Rudy & the Jingles Plush will be sure to get your little one in the holiday spirit.

If you are looking for a fun gift idea to give either a child or a senior in a retirement or nursing home, why not check out the animated musical plush collection from Cuddle Barn.
Let us know your favorite!
Website: http://store.cuddle-barn.com