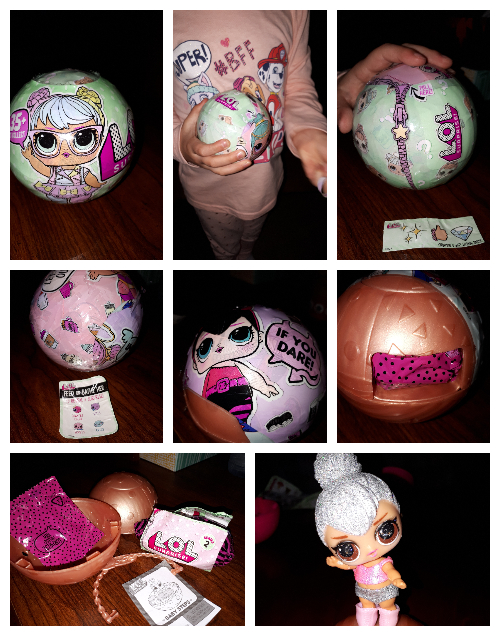 Every holiday season there is some "must have" toy that every child wants and parents struggle to find. This year, next to Fingerlings, the must have toy goes by the name of L.O.L.Surprise. The LOL Surprise doll by MGA Entertainment is the hot new blind pack sensation.
Recommended for ages 3 and up, every L.O.L. Surprise doll comes with a number of unexpected features that kids can discover as they unwrap seven layers of fun. With L.O.L. Surprise!™, every day is a holiday.
Each L.O.L. Surprise doll is wrapped in layers of plastic that kids peel away one by one. There's a cute little printed zip design on each layer.
The 1st Layer reveals a Secret message. 2nd Layer: Emoji stickers. The 3rd Layer: Baby bottle. 4th Layer: Pair of shoes. The 5th Layer: Outfit. The 6th layer reveals a Fashionable accessory, and the 7th layer reveals the L.O.L. Surprise!™ 3-inch doll. The suspense of discovering each layer only adds to the fun for kids.
Oh, but the surprise doesn't end there. Feed the L.O.L. Surprise doll water with the baby bottle and you reveal ANOTHER hidden surprise! Some dolls spit up, pee, or cry tears with just a pinch of their head. Some of the dolls even change color once they are submerged in cold water.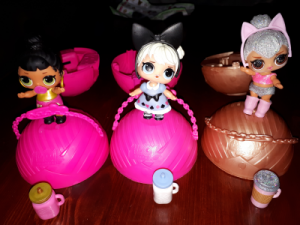 Each L.O.L. Surprise doll truly has a style all her own. Even the water bottles vary from bottle to what resembles a Starbucks coffee cup. The ball is like a tiny play-set, and stand in one.
Our Opinion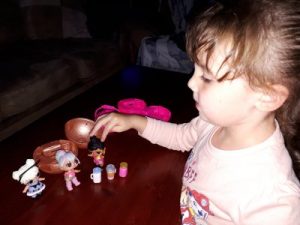 My daughter loved unwrapping each layer. She just couldn't wait to find what was next. All in all, I'm on the fence on these. In my opinion they resemble a miniature , Bratz doll and I'm not a fan of Bratz. The outfits and accessories are interchangeable and there are several dolls to collect. Each L.O.L. Surprise doll costs anywhere from $7.46 for Lil sisters L.O.L.Surprise to $13.87 for series 2 L.O.L.Surprise doll , so they aren't the cheapest bling bag collectible, but they do offer a lot more than other blind bag collectibles. While my daughter liked them, she wasn't a huge fan and despite them coming with more features other toys in our home get more play.
L.O.L. BIG Surprise doll
The L.O.L. Surprise doll fun doesn't stop there. MGAE has released L.O.L. Big Surprise just in time for the holiday season. L.O.L. Surprise! Big Surprise was selected as one of the top toys of the holiday season and featured on the Toys"R"Us 2017 Holiday Hot Toy list. What makes the L.O.L. Big Surprise unique is that each of the 50 toys inside the ball are individually wrapped and include tiny dolls, doll clothes, doll shoes and doll accessories. The "Big Surprise" also contains bath bombs that also have toys hidden inside, but are only revealed once the bombs dissolve in water. Are you siting down? The $69.99 toy is sold out at most retailers, and it's selling for more than $100 on eBay. In fact it's $99.99 on Toys R Us Canada and completely sold out.
About MGA Entertainment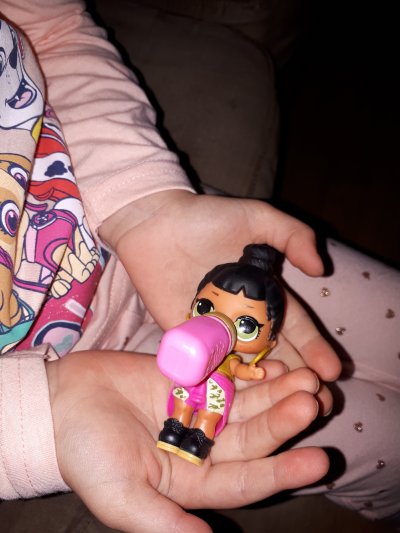 MGA Entertainment, a consumer entertainment products company headquartered in Van Nuys, California, manufactures innovative lines of proprietary and licensed products including toys and games, dolls, consumer electronics, home décor, stationery and sporting goods. The MGA family includes award-winning brands such as Little Tikes®, Lalaloopsy™, Project Mc2 ™, Bratz®, Num Noms™, L.O.L. Surprise!™, and Zapf Creation®. Visit us at www.mgae.com.