For 74 years, one little monkey has led the way into a world where delight, friendship, and learning come together in the joy of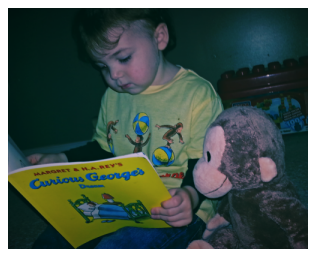 curiosity. Books about Curious George, including the seven original stories by Margret and Hans Rey, have sold over 75 million copies. In my house,  my daughter is a bit monkey-obsessed. Of course she goes bananas over Curious George.I remember reading these classic books by Margaret & H.A. Reys when I was growing up, so I am excited to see that my little monkey loves them, too! Curious George plush toys make great gifts for any Curious George fan, young or old and they go great paired with a matching DVD or The Complete Adventures of Curious George: 70th Anniversary Edition book.
GUND has teamed up with everybody's favorite monkey — Curious George to bring you an entire line of stuffed Curious George Plush. My daughter already owns one Gund Curious George whom she loves cuddling up with. (Mind you his red shirt has been lost.) Having a Curious George plush companion seems to really help bring the Curious George books to life for my daughter.
Gund has many "classic" Curious George plush toys to choose from, from George in his red shirt to a variety of stuff plush that

match some of our family's favorite Curious George episodes that we watch daily on Netflex.
In "Doctor Monkey", George is at a routine visit at his doctor's office when suddenly, as only George can do, he finds himself treating his doctor's patients. Amazingly, he does an incredible job at it too! Gund has a 12″ doctor Curious George plush toy that would make any Curious George fan happy. It features George in his white doctor's coat, a stethoscope, and even a black doctor's bag, for those all important house calls. Pair it with the book "Curious George Goes to the Hospital" or the DVD "Curious George: Goes to the Doctor and Lends a Helping Hand" for the perfect gift set.

There were a couple episodes where George rode into space as an astronaut, or is that astro-monkey? In "Grease Monkey in Space", the Man with the Yellow Hat is enlisted to help fix a telescope in space, as it turns out the scientists that built the telescope weren't thinking and it required someone with four hands to fix it. Well, that leaves no one, but George!  George is asked to fly a rocket to deliver supplies to a space station. This Curious George plush toy is about 12" tall and features George in his space suit. You can also purchase a Curious George Rocket Toy.
For winter 2015, George is all set for the cold winter weather! I love George's  red and white striped Santa hat and scarf combo. He's great for snuggling up with after a fun day in the snow! For a great holiday gift you can pair him with paperback stories like Curious George Snow Day. Curious George in his winter vest is also a great option for winter stories.
If you're looking for presents for winter birthdays, the Curious George Birthday stuffed animal can be paired with Curious George and the Birthday Surprise for a great gift. For something extra special why not include a Curious George t-shirt from Out of Print Clothing.
Under our Christmas Tree this year will be this soft and huggble 16" tall Curious George who is ready for bedtime stories. He comes dressed in his striped pajamas, carrying a security blanket.  Accurate Curious George details make this plush the  perfect bedtime buddy for young fans of the curious monkey.  The pajamas and blanket are sewn on in several spots, but could be removed with a stitch ripper if desired. The hand is also attached to chest. As always, high-quality and huggably soft plush ensures that GUND products remain loyal pals for years to come. Surface-washable construction for easy cleaning.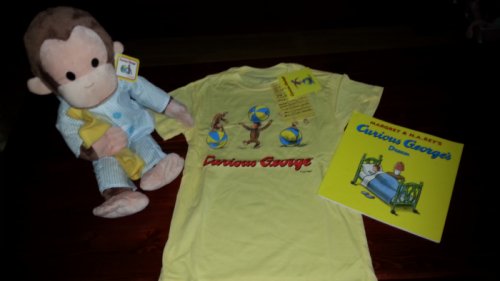 Curious George's Dream or "The Complete Adventures of Curious George: 70th Anniversary Edition book" are great add-on gifts.  If you're looking for more bedtime story options, the 70th anniversary collection is a must-have for little Curious George fans. The anthology features the original seven stories written by Margret and H.A. Rey, in which George learns to fish, ride a bike, fly a kite, and explore his new life in America.
I can not wait until my daughter finds her Curious George Bedtime Stories Gift Set under the tree come Christmas morning.

Gund Curious George plush can be found on Amazon.com and Amazon.ca, at Carlton Cards and where other Gund products are sold.
Website: enescocanada.com