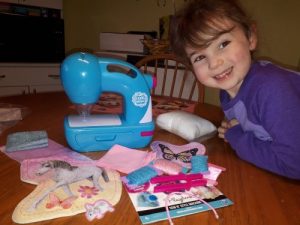 Do you have a child that is a fashion designer in the making? Do they enjoy DIY crafts and activities? Well, then the only solution to fulfill their desire is to get a kid friendly sewing machine for them. The Cool Maker Sew N' Style Machine, recommended for children aged 6 and up creates a seam without any thread!
The Cool Maker Sew N' Style Machine is incredibly safe and easy to use. The needles are under a plastic guard, so there's no way to hurt little fingers.
Kids simply place their fabric underneath the Cool Maker Sew N' Style Machine needle guard, press the button to turn it on, and feed the fabric along from the starting point to the endpoint per the dotted line. There is no need for bobbins, foot pedals, needles, or thread.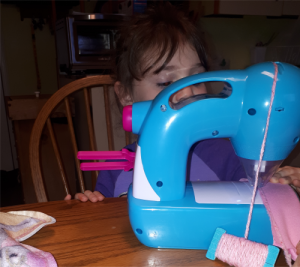 The pop-out patterns help kids trace and cut so they know just how much fabric they need for the projects. And the dotted lines on the pre-cut projects help them see where to sew.
The Cool Maker Sew N' Style Machine comes with two Cool Maker pre-cut projects, a sheet of Cool Maker fabric, three Cool Maker decorative fabric pieces, a page of pop-out patterns, a bag of stuffing, a pom-pom maker attachment, a piece of stretch fabric, an elastic, a bundle of ribbon, a bundle of style string, two sheets of glitter fabric, two bundles of pom-pom yarn, and instructions.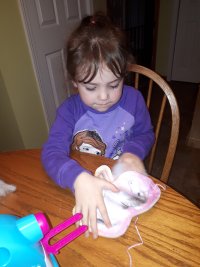 Kids can make up to five projects with the included supplies: a plush unicorn, a plush butterfly, a hair clip holder, a glitter pouch with a pom-pom tassel, and a scrunchie. Creating these fun projects requires and improves hand-eye coordination, fine motor skills, and creativity.
The Cool Maker Sew N' Style Machine requires four AA batteries, which are not included. Refill packs are available and sold separately.
The included guide features clear instructions and for added help their is lots of videos on YouTube.
How To Make Pom Poms
Cut 8 inches or 20 cm of yarn and set aside. Wrap the remaining yarn around the pom pom attachment.  Now tie a single knot around the poms with the yarn you set aside. Remove the wrap string bundle and tie a second knot to secure. Now with scissors cut the loose ends, but don't cut the middle string. Fluff and trim.
Our opinion of the Cool Maker Sew N' Style Machine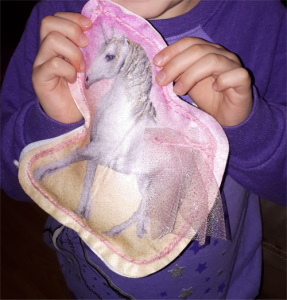 Our five-year-old daughter had quite a bit of difficulty with the "Cool Maker Sew N' Style Machine" and needed parental assistance. Nonetheless, she did have fun creating her own mini pillow. We think if she were a year or two older she would have been able to master the machine with little to no help.
Cons: While it's easy to sew the felt together if you make a mistake, it can be tricky to separate the pieces. Also, there is no way to replace the needles if they break.
Overall,  the Cool Maker Sew N' Style Machine is a really nice machine for very young children to start out on before they move on to their first Singer sewing machine.
Sew N' Style Machine – Scrunchie

Spin Master ( www.spinmaster.com)