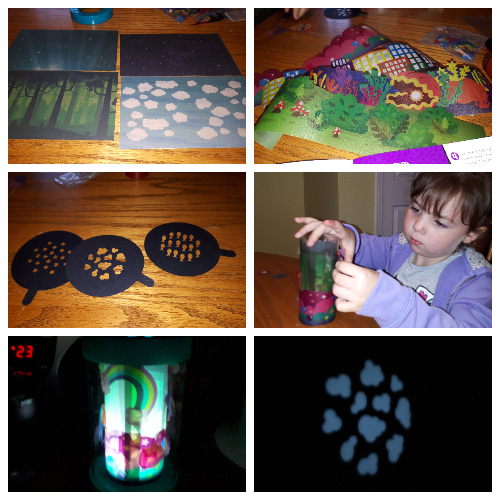 Fear of the dark is one of the most common fears of children. While children's fear of the dark usually resolves around age 4 or 5, it not uncommon for children as old as 8 or 9 to still have fears of the dark. Children can help over-come fears with a night-light. This upcoming holiday season why not get your kids excited to turn out the lights with the DIY Klutz, Jr. My  Night Light kit.
The night light from Klutz comes with four different backgrounds, five landscapes, and over fifty transparent punch-outs that can be mixed and matched to create 3D scenes that glow at night. The instruction book has loads of suggestions on how to creatively pair the artwork together to make the perfect scenes. Once assembled children's scenes will be illuminated from within!
The night light has a timer, so it will turn off automatically once children fall asleep.  And the light that shines from  the "Klutz, Jr. My  Night Light" is so low that parents do not have to worry about it interfering with their child's sleep. The night light runs on 3 x AAA batteries, which are not included.
Though recommended for children age four and up your child may need help assembling. Overall the Klutz, Jr. My  Night Light is a fun craft for children who enjoy art.
What's in the box
1 x 24-page instruction and idea book
1 x customisable LED night light with timer
4 x backgrounds (space, clouds, underwater and forest)
5 x landscapes (city, coral, bushes, moonscape and pink clouds)
3 x projection disks (clouds, stars and fish)
over 50 x mix & match colourful punch outs
over 30 x reusable 3D sticky squares
Klutz Jr., is a new line of book and craft kits that inspire little makers, ages four and up. Some of our others favorites from this new line include:
Klutz Jr. My Egg Carton Animals
Children's imaginations run wild as they transform egg cartons into six barnyard animals. Specially made egg cartons tear apart and glue easily. Fun animal facts throughout the book give an added giggle as kids paint and add googly eyes, cotton balls, and precut accessories to make their very own farm animal friends. (Ages 4 and up)
Klutz Jr. My Clay Critters
Made especially for little hands learning fine-motor skills, this book and craft kit is ready for kids to dive right in and make ten adorable ocean critters. With 6 colors of air-dry clay, a special shaping tool, and colorful precut and custom pieces, kids can follow simple step-by-step instructions to create their own underwater adventures. (Ages 4 and up)
Klutz Jr. My Pom-Pom Pet Shop
With this kit, kids can create ten of their own fuzzy friends using pre-made pom-poms, paper punch-outs, and glue. Then they can assemble their own pet carrier to transport their critters. Altogether it's everything you need to make a pom-pom pet shop—no food, walks, or house-training required. (Ages 4 and up)
What do you think about KLUTZ JR. MY LITTLE NIGHT LIGHT?
About Klutz®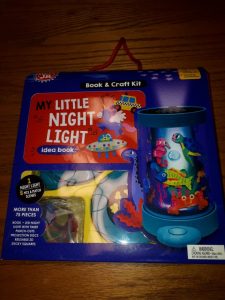 Founded in 1977, Klutz has been engaging kids for decades with more than 110 million copies of its activity products in print, including such popular and award-winning kits as Cat's Cradle®, Face Painting, Juggling for the Complete Klutz, and The Klutz Book of Paper Airplanes. Klutz's unique combination of crystal-clear instructions, custom tools and materials, and hearty helpings of humor has kick-started creativity everywhere. Klutz is an imprint of Scholastic, the world's largest publisher and distributor of children's books. For more information, please visit www.klutz.com and http://mediaroom.scholastic.com/klutz. Follow Klutz on Twitter @KlutzBooks, on Facebook, on Instagram, on YouTube, and on Pinterest.