Thanks to Guidecraft, there is a new way for your child to build children's problem solving skills, support STEM development, and stretch their creative thinking. IO Blocks provide your child with endless creativity in building anything from vehicles, buildings, people, animals and more. They come in a variety of colors and unique shapes that all fit into each other in different angles.IF you are looking for a unique gift for a child this holiday season Guidecraft IO Blocks is it.
Guidecraft IO Blocks® 59 Piece Travel Set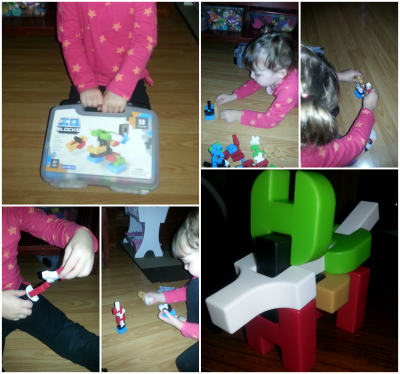 My 3 year old daughter can't put these STEM blocks down. She has a lot of fun slipping and rotating pieces as she connects them, changing the look of her creation. They stick well into each other and don't easily come apart.
As a parent, I think it's wonderful that this product gives her a variety of ways to show her creativity, while working on her fine motor skills.
Each travel set set comes in a handy portable plastic travel case, making it even easier for her to take her favorite new building blocks with her while on the go.
All IO Blocks system sets (of any type) includes an enclosed tracker pad. When used together with the free IO Blocks app, provide an interactive building guide with dozens of themed builds for IO Blocks, IO Blocks Minis and IO Blocks Vehicles. The IO Blocks app may be downloaded for free on Google Play and Apples App Store.
This is a block set that grows with your child. Younger kids can start out with simple designs, and move on to more complex ones as they grow.
The high-quality design of the IO Blocks toy itself, with its open-ended building possibilities and problem solving, puzzle-like qualities, makes it a great fit for  parents like myself interested in STEM skill development toys.
Guidecraft is known for STEM play and learning products. From building blocks to building rods and magnets, STEM is at the forefront of the building process.Watch movie online The Transporter Refueled (2015)
Developmentally appropriate for ages 4+.  Available at Guidecraft.com and participating retailers.
About Guidecraft:
In business for 50 years, Guidecraft has grown from its humble beginnings to become a global, environmentally-responsible, toy and furniture company, committed to creating fine, high quality educational toys and furniture for children in the consumer and educational markets. Guidecraft's mission is to create objects of lasting importance that enrich the lives of children and provide creative, meaningful and joyful experiences.  For more information visit www.guidecraft.com and follow us on Twitter, Facebook and Pinterest.