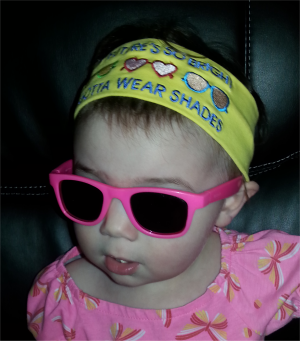 I am urging all my readers with children to please be more vigilant with regards to sun safety. Damaging UV rays might be invisible, but their effects are not. Sun damage starts when we are children. It is estimated that a majority of skin cancer in older adults is a result from exposure when we were kids. When it comes to our children we have to be even more careful, due to their delicate skin being even more susceptible to sun damage. While not only is it important to make sure we apply an effective sunscreen, it is important children wear a pair of proper fitted kids' sunglasses.
Do kids really need sunglasses?
Children are at a high risk for skin and eye damage from UVR, due to their eyelids and around their eyes being more delicate and vulnerable. Exposure to light and harmful sun-rays at an early age can lead to vision disturbances later in life, therefore the more skin covered, the better.
Quality of Kids' Sunglasses

Today, Children's sunglasses come in various designs, styles and colors, however not all kids' sunglasses are created equally. Those that are more of a toy than an actual pair of sunglasses may do more harm to your child's eyes. When selecting a pair of sunglasses for your child, purchase a pair which provides 100% protection from the harmful UV rays of the sun. Putting low-quality sunglasses on your child is worse than them wearing no glasses at all.