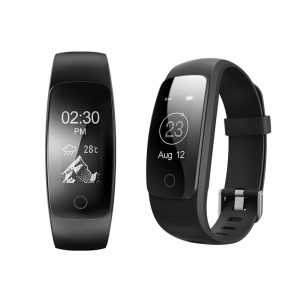 I love the idea of tracking my steps and activity, but for many of us a fitness tracker like the Fitbit can be an expensive investment. Lucky for us there are lots of more affordable  fitness trackers out there to choose from. One brand in particular is the Heart Rate Monitor Wireless Fitness Tracker from COOSA.
The nice thing about the COOSA wireless fitness tracker is that is pairs with your smartphone to track your steps, heart rate, sleep, and burned calories. COOSA included some other neat features like: silent alarm, sedentary reminder, anti-lost alert, camera snapshot, and wrist flick.
The fitness tracker includes a heart rate monitor, which should be standard on all health monitors. Especially if you deal with Hypotension Blood pressure like I do. The heart rate monitor is surprisingly accurate.
The COOSA wireless fitness tracker has a step pedometer (which is a step counter.) Every step you take it counts and records it and you can set your personal goal to beat the record from the day before. This is a great motivator for those of us who are trying to lose a few pounds. The tracker can also measure overall distance  walked, and it has a sedentary reminder to vibrate and alert you when you have been sitting still too long. This is another great motivator for those of us who procrastinate or get sidetracked with other things going on throughout the day.
The band has a LCD display that is lit and can conveniently turn on with a wrist twist instead of having to turn it on by tapping/pressing a button. I did find this feature be rather sensitive.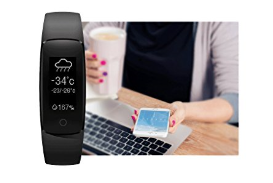 The creators also included call alert, so the wristband will alert you by vibrating when a call comes in. I love this feature.
The fitness tracker also features a camera which features remote shoot. This is a great feature for selfie lovers.
Users that suffer from sleep apnea can also benefit from the COOSA wireless fitness tracker, as it also has a function that monitors sleep. I did find this feature to be a tad off at times.
Of course it wouldn't be a heath monitor if it didn't include a calorie tracker estimated based on weight, height and steps/movement. Like a watch it displays the time, and has an alarm that silently wakes you without disturbing your partner .
You can also use the alarm as a reminder to take your meds.
Finally; It also has an anti-lost function for your Smartphone  It will alert you if your phone is too far from you by giving you a vibe and displaying a phone symbol indicator.
How long does it take to Charge?
To charge the tracker you turn the wristband band over and pull the center part out. You will notice the one end has a standard USB connector that you plugin to your tablet, or pc for charging purposes. It takes approximately 2 hours for a full charge. When your tracker is starting to run low on battery life it displays a battery icon and vibrates alerting you that it needs a charge.
Setting up the fitness tracker
To get your wireless fitness tracker up and running, plug it in to your PC's USB to fully charge it as it does not come pre-charged. Next: Download the VeryFit 2.0 APP on your Smartphone device. You also must turn on the Bluetooth Feature, if it isn't already on, so that the VeryFit 2.0 APP can scan for your device. Once the VeryFit 2.0 APP finds your device you must select it from the list and then click "Confirm Bind Deive". The fitness tracker is now paired with your smartphone.  Now you will need to go through the settings and setup  time, alarm and personal preferences.
One of the things I don't like about the  COOSA wireless fitness tracker is that is it is water resistant not waterproof. Aside from that I found it to be a great affordable alternative to the FITBIT.
Order your COOSA wireless fitness tracker from amazon.ca today!