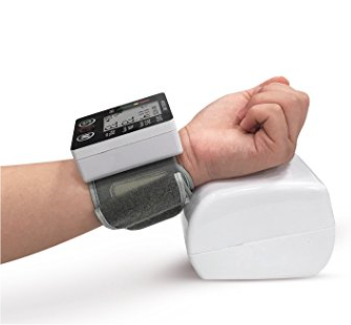 Every summer, millions of people with high blood pressure travel. It is just as important to monitor your blood pressure at home, as it is to monitor your blood pressure when away from home. If you're looking for a very user-friendly wrist blood pressure monitor for travel then look no further than the Brodcare digital blood pressure monitor.
It comes with:
 Wrist Blood Pressure Monitor
USB Charge line
storage case
manual
To charge the device, you connect the USB cable to your computer. It takes about 30 min to charge. Please note: The unit should be fully charged before taking your blood pressure or it will give some all over the place crazy readings.
You can use the monitor for 2 individuals. It stores 2 profiles and holds the same data for up to 90 blood pressure readings per user.
The Brodcare digital blood pressure monitor is a huge win for physicians as well. It stores your blood pressure readings with recall. Therefore,  your doctor can easily review the history of your blood pressure readings and make a decision to either increase, decrease or make changes to your prescription if required.
The one con of the product is that the wrist cuff could be a little larger. It fit my wrist without any difficulty, but it was a tad small on my husband's wrist.
Accuracy:
The monitor I use regularly at home is an Omron blood pressure machine, which is used by Health professionals here in Canada.
I took my blood pressure seconds from each other using both monitors. You will see by the picture that the systolic blood pressure number was off by 4-6 each time on the wrist machine.
It is quite possible that my readings may be different from my upper arm to my wrist as blood pressure varies throughout the human body.  It could also have been off due to the position of my arm during reading. Inappropriate sizing of blood pressure cuffs can contribute significantly to errors in blood pressure measurement as well. If you are an obese individual then upper arm BP measurement is more accurate than a wrist reading.
Having said all that: My findings are that the Brodcare digital blood pressure monitor is an accurate good little machine.
Available: Amazon.ca