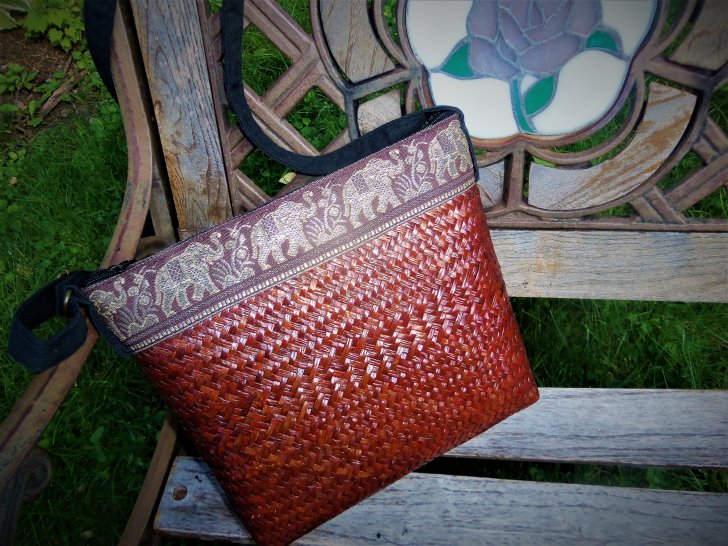 A handbag is the perfect accessory, and it's no secret that handbags are a fashion investment. When shopping for your next handbag why not make sure that your investment supports an artisan from Thailand.
This handcrafted handbag is offered in partnership with NOVICA, in association with National Geographic.
Brilliant Hill tribe artisan Thikaporn fuses classic and modern Thai elegance in this compact handcrafted handbag that will complement any summer outfit. I think the bag has a touch of elegance.
On the woven shoulder bag, regal elephants walk among flowers celebrating Thailand's unique artistry.
The beautiful elephant purse is woven of sedge dyed brown, and is worn on an adjustable black cloth shoulder strap. Lined in black cotton, the bag closes with a sturdy zipper and has a handy pocket within the black lining.
Trendy and practical the woven hand bag makes for a  versatile accessory. I found the handcrafted handbag to be well sized for days I have lots to carry with lots of room on the inside.
Artisan Thinkaporn is Akha.  Akha are an indigenous hill tribe who live in small villages at higher elevations in the mountains of Thailand, Myanmar, Laos, and Yunnan Province in China. Thinkaporn's father was one of the first generation of Akha descent that came down to the city for merchandise trading. He didn't have an education and could hardly speak Thai, but through hard work and perseverance he learned and ultimately ran his own shop. Thinkaporn decided to take over her father's business, adding  new products, such as the hand-woven bulrush handbags embellished with Lanna patterned fabrics, as well as with the renowned embroidery of the Akha people.'
NOVICA.com was founded as an online fair-trade marketplace based in Los Angeles, with offices in eight regions throughout the world. Novica employs extraordinary master artists like Thinkaporn. Through Novica they are able to provide for their families and share with us the gift of their talent. Novica features more than 30,000 limited edition and one-of-a-kind handmade works of art daily, ranging from artisan-crafted jewelry to handmade apparel to world-style home decor.  Each item at Novica is a true canvas that showcases the love the artist has inside themself.
So far Novica has succeeded in helping change the lives of 50,000 people in developing nations, including artisans and their dependents, uniquely helping each artisan earn personal recognition and real-world prices for their work.
I encourage you to check out Thinkaporn full collection at Novica.com. Whether you're looking for a hand woven handbag  for everyday use or a sleek clutch for an upcoming wedding, I recommend you check out the work of other artisans at Novica.