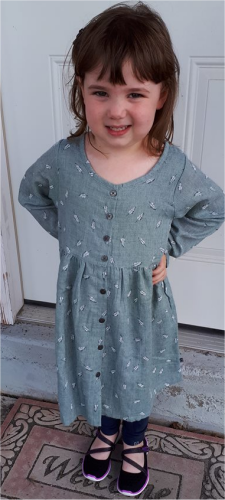 It's that time of the year again, back to school season. For kids everywhere this often means back to school shopping: school supplies, new shoes, maybe a new backpack and a few new fall outfits. As I prepare my daughter for junior kindergarten I look to the new fall kids clothing collection from Appaman. Appaman is a favorite brand here at Today's Woman, and with good reason! Their clothing is trendy and unique.
The Appaman collection for Fall is a heady mix of boho clothing styles,  comfortable lounge pants that mimic the pajama trend and layered shirts. The fall 2017 line consists of the colors of fall. Soft suedes, fringe, feathers, fowing wovens, and open knits come together for a cozy, natural look.
This fall season the bohemian style that was made popular in the late 60s and early 70s, is now once again back in style. Bohemian children's clothing is the next big thing in kids fashion. This bohemian shirt-dress from Appaman can be warn as a tunic top or as a dress. The dress is fully lined and printed with a whimsical feather pattern. Bohemian style is all about layers.
This dress would look great paired with the Orchard Reversible Vest. She can pick from faux suede or faux sheepskin, but either way, she'll add a trendy accessory to her breezy bohemian shirtdress. The dress certainly meets my daughter's free-spirited, dazzling personality and is perfect for back to school.  I want to tell everyone to go out and get this dress! It's so adorable. It also comes in a rose color.
We paired the dress with Appaman's stretch suede leggings. Keep in mind that these are a slim fit legging, so if you want some
extra room, I recommend ordering a size up. The leggings also sit mid rise and have an elastic waistband for comfort.
Like mommy, my daughter could live in her pajamas.  These sporty sweats made with glittery knit fabric have all the comfort of pajama bottoms. Featuring a tapper fit and elastic waist band, they are perfect for junior kindergarten.
The joggers look great paired with any of Appaman girls long sleeve graphic tees. My daughter is wearing the Tree Hugger Alder Tee which features a fun bear and tree illustration. The tee also looks great paired with classic denim. My daughter is wearing shoes from Skechers in both photos.
Be it for rain or just to layer through fall, a bold statement jacket is a must. When it came to choosing a jacket for my daughter from Appaman it was no easy task as I was drawn to the Hemlock jacket (my absolute favorite), the Asymmetrical Zip Coat and the Wilderness Jacket.
We opt for the Wilderness Jacket as we thought practicality. After all the jacket would be getting lots of outdoor use. The Wilderness Jacket features vintage denim on the outside, and a super soft cozy faux sheepskin on the inside. The fully lined hood featuring faux fur trim is removable giving the jacket a totally different look. The coat features two side pockets that snap close.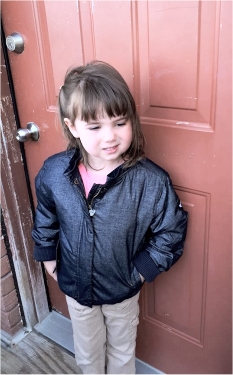 Appaman Fall 2017 kids clothing collection is full of everything that a little girl needs to have a well rounded wardrobe. Whether you are looking for the perfect casual outfit for the first day back or something more fitting for school photos, you can rest assured that Appaman has got you covered!
Before heading out for new clothes, be sure to take inventory of each of your kids' closet, so you pick up what's really needed.
For Appaman in Canada visit Around the Crib / A division of Do-Gree Fashions Ltd.
Website: aroundthecrib.ca