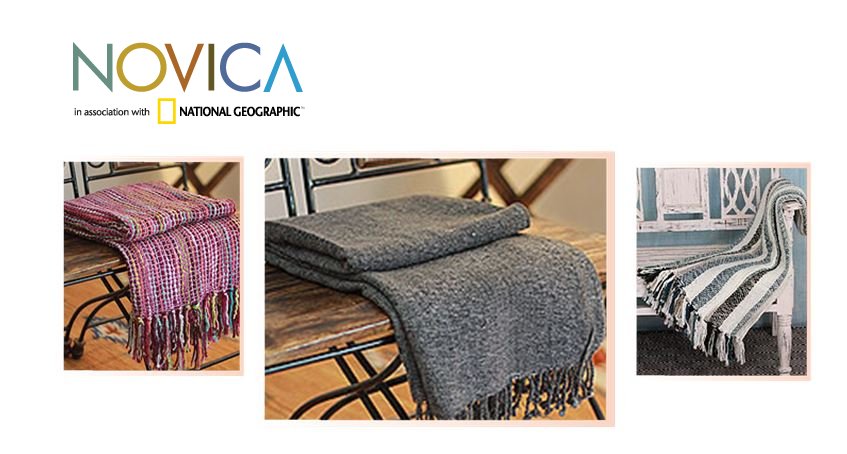 This Christmas why not give her a little luxury that can be enjoyed year-round. Whether draped over her shoulders or on the arm of a sofa or at the foot of her bed, woven throw blankets are the easiest way to add warmth to any home. A woven throw can artistically turn simple chairs and tables into works of art. There's nothing quite as welcoming as the touch of a woven throw blanket.
Novica, a website associated with National Geographic, has several beautiful throw blankets. When you shop with Novica, not only are you giving the special woman in your life a handcrafted gift, but you are helping support one of 2000 extraordinary master artists around the world providing for their family and sharing the gift of their talent. Each item at Novica is a true canvas!
Today's Woman featured Artisan
About the artisan: Seema was born and grew up in Kashmir India. In the 1980's she moved to Jammu with her family. Upon graduation, she took a five year course in textile design. After completing her textile degree, Sheema worked as a designer for six years. After the birth of her 1st child, Seema decided to design a collection of apparel and home furnishings of her own. The response has been a positive one. Her designs mainly focus on embroidery work and the coordination of color and fabric.
Thick, luxurious fibers are woven together to create the warm comfort of this versatile throw blanket, presented by artist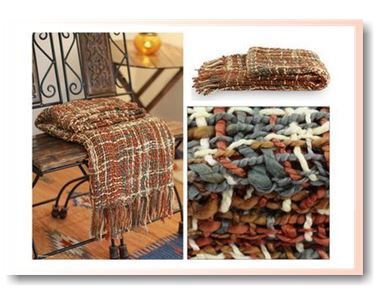 Seema. The throw features glowing earth tones of orange, brown, sepia, and olive, which gives the blanket as a whole a very pleasing effect. It will take you from fall to the holidays with its warm colors. It also serves as a wonderful conversation piece.
I found it to serve as a wonderful decorative accent that would look perfect in any room of my soon to be daughter n law and son's home. The blanket is functional as well as pretty, offering cozy lightweight warmth on chilly spring days and just the right amount warmth when watching television on the couch during cold winter months. Sometimes a light throw will do the trick just fine. 
Surround yourself with the luxurious comfort of Indian Striped Throw Blanket, 'Teal Kiss.'  Put in on your bed, easy chair or sofa and feel wrapped in airy softness. The gentle colors of this natural weave blanket will transport you somewhere  warm and relaxing on those cold winter nights. By Seema in India, this beautiful textile is an elegant accent in any setting.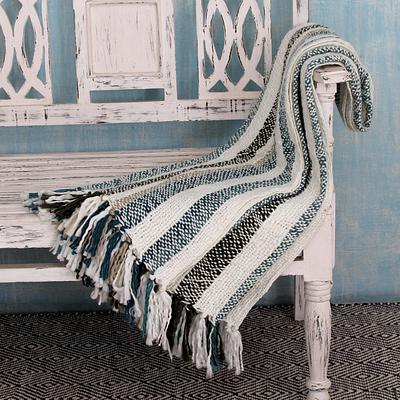 Both blankets are dry clean only, and need to be laid flat to dry.
A throw blanket can be used anywhere and during any season.
Summer is a fun-filled time of year, with fireworks, pool parties, and family picnics. Durable, tightly woven, and bursting with color, woven blankets are perfect for bringing style to any picnic; they also provide just the right amount of warmth for night camping trips, and make the perfect travel blanket. Both of these blankets are perfect year around.
Throw blankets are also perfect for outdoor weddings. My son and soon to be daughter-n-law will be using both blankets during their Fall 2016 wedding.
Aside from the throws, Seema evokes classic Indian glamor in her embroidered photo frames, and cushion covers, both of which would make a wonderful gifts for her.
I would like to invite you to drop by Semma's Novica page and check out her designs.
Website: novica.com