If mom is a bird lover, then adding a bird-feeder to Mom's garden is a great way to attract more birds to the backyard. There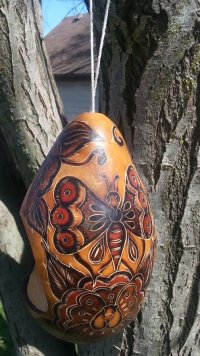 are many types of feeders available. Bird feeders are an important source of food for birds, which will transform mom's backyard from an ordinary patch of grass to a bird oasis.
Gourds make good birdhouses for chickadees, wrens, and other small birds, but also make beautiful bird feeders.
Designed by Emilio Hurtado of Perfu, the "Mate gourd bird-feeder"  is hand made by transforming a dried mate gourd into a charming garden accessory. Engraved by hand, butterflies and flowers are carved into the gourd. The elegant feeder is enriched with the bath of smoke which intensifies its deep and rich color and also adds beauty to the feeder. I was very impressed by Emilio exceptional attention to detail. The photo, really does not do the "Mate gourd bird-feeder" justice. Crafted with care, I will treasure this for years to come.

The protective coating on the gourd feeder makes it ideal for mom's garden, but she may want to hang her feeder inside as decor.
Hurtado's carved mate gourds are filled with history and culture. They are more than a Mother's Day gift, they are the result of generations of artisans.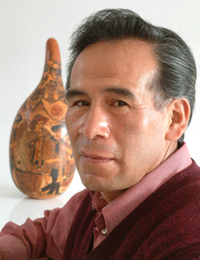 Emilio was born in Cochas Chico, just outside of Huancayo in the highland mountains of Peru, and became an artisan out of necessity. He was orphaned at age twelve ~ and needed to work to survive. As eldest, Emilio became the head of the family.
For twelve years, he worked in a mate burilado workshop and received clothing and food for himself and his siblings as payment.
In his early 20's he married and he and his wife Anna started their own family.  Emilio and Anna would sell the gourds at the popular Huancayo Sunday fair.
As his client base grew, with his brothers, he formed a group that will always remember the Hurtado family and continue the art of their ancestors.  At his workshop, Emilio employs people who otherwise would not have a job. The workers Emilio hires initially are unskilled and do not know how to create mates burilados. He hires them expressly to be able to teach them a skill and help them get themselves out of poverty.

NOVICA.com was founded twelve years ago as an online, fair-trade marketplace based in Los Angeles, with offices in eight regions throughout the world. Novica employs extraordinary master artists like Emilio Hurtado. Through Novica they are able to provide for their families and share with us the gift of their talent. Novica features more than 30,000 limited edition and one-of-a-kind handmade works of art daily, ranging from artisan-crafted jewelry to handmade apparel to world-style home decor.  Each item at Novica is a true canvas that showcases the love the artist has inside them.
So far Novica has succeeded in helping change the lives of 50,000 people in developing nations, including artisans and their dependents, uniquely helping each artisan earn personal recognition and real-world prices for their work.
I encourage you to check out Emilio F. Hurtado full collection at Novica.com.