Toy trends come and go each year! However, there are some toys—the timeless classics—which continue to entertain kids year after year, decade after decade. The rubber duck is no exception. Rubber ducks have entertained, and satisfied young and old for many years, and will continue to do so for a long time.  Rubber ducks have undergone a surprising transformation though.  Introducing Rubba Ducks! With over 220 designs and 20 million+ rubber duck lovers worldwide, Rubba Ducks are the new world's premier rubber duck collectible. Needless to say, given their whimsical charm and wide style variety, the ducks are extremely popular with not just children, but adult collectors as well.
Rubber Duck History
The origins of rubber ducks trace back to the late 1800s, when manufacturers made use of Charles Goodyear's process for rendering rubber into malleable material. Early versions were not much fun. They were more like heavy "chew toys." By the 1940s, rubber ducks developed into the iconic floating yellow figure with bright orange bill that we recognize today. Rubber ducks have been recognized as standard the bathtub toy since 1970 when Ernie, on Sesame Street, first sang the catchy ditty "Rubber Duckie" to his best bath buddy. Rubba Ducky, you're the one.
Rubba Ducks History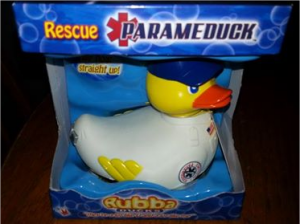 The Rubba Ducks concept was hatched from Mark Boldt's daughter Savannah, who at the time was only 4-years old. Even though Rubba Ducks was initially introduced in BOLDT.'s national children's magazine Surprises, the demand for the first character based line of rubber ducks spread quickly.  After making a huge splash at Toy Fair in 2001, and with millions & millions of ducks sold in 14 countries, Rubba Ducks quickly became the world's premiere rubber duck collectible.
Rubba Ducks Soaking Away the Holiday Stress
Rubba Ducks uniquely communicate their individual personality and character. While there are the traditional-
themed ducks dressed as police, firemen, sports, paramedics and animals, these ducks go a step further in incorporating specialized hobbies, interests and even holiday themed ducks. Who needs an Elf on a Shelf when you can get Tinsel as a Duck?
Some of the ducks have wonderful detailed designs, such as "Chester" (the jester) or Spa Duck, Merduck, both of which my daughter has added to her collection of rubber ducks.
Unlike those of the past, Rubba Ducks are free of phthalates for total safety and Rubba Ducks have no holes. No holes mean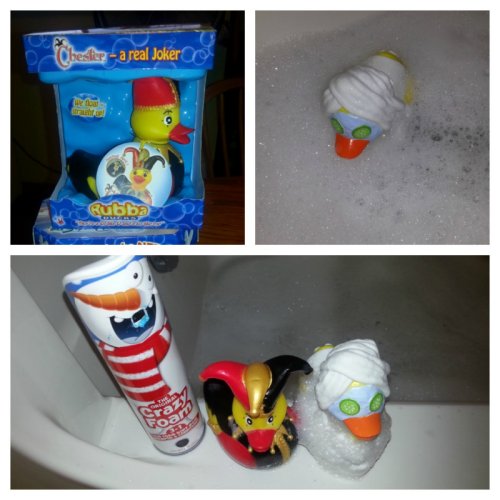 no mold like some other brands of rubber duckies. That makes this mom happy!
Rubba Ducks float straight up! So many rubber ducks tip over when set in water, but these do what the real ducks do – they float upright. The bottom has a weight in it, so no matter how they go in the water, they will pop right up. Each duck has a name and story on a trading card on each box, and iconic tattoos on their bottom
You can even add some fun and humor to an upcoming winter wedding with a pair of bride and groom Rubba Ducks. We added Mrs. Duckbells to our Rubber Duck collection. It was most fitting, as I just gained a daughter- n-law this year.   Fun touches include a veil and 'Just Married' sign on her tail feathers. Mr. Duckbells  is also available and sold separate.
Rubba Ducks are more than a duck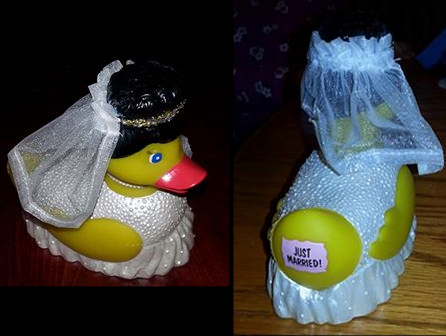 Rubba Ducks, you're the one!  Obviously, Rubba Ducks has given a unique spin on this traditional toy.  And, with its international appeal, Rubba Ducks as a brand has so much MORE to offer beyond ducks themselves; from bath products, to a clothing line, birthday party supplies and yes, even an animated movie. Make bath-time lots of fun this upcoming holiday season with Rubba Ducks.  Combine Rubba Ducks with Crazy Foam and you have the ultimate bath time gift.
To learn more, visit the official RubbaDucks.net and Facebook. If you are a serious rubba (rubber) duck collector and/or fans of the Rubba Ducks, you can also subscribe to the company's newsletter.
Many of the ducks are also available on Amazon.com.
Rubba Ducks Giveaway
Enter our fabulous giveaway to try and win a Rubba Duck of your very own! Just enter below and remember, the more entries you complete, the better your chances of winning! Good luck!