"Emoticons," short for "emotive Icons,"have quite the appeal. And to be honest we love them just as much as our kids do. What would today's conversation be like without them? They have become such an integral part of online conversations and expression, that it is hard to imagine a world without the emoji ( emoticon).  The appeal of emojis and emoticons has leaked into various forms of media and merchandise. With the excitement of emoji's today, Fun 2 Play Toys has joined the digital emoji trend, and brought these beloved characters to life with their release of the Emojiez line.
Emoji and Emoticon History
First some history about Emoticons and Emoji. Emoji & Emoticon Icons have been around for a fairly long time.  If memory serves me right Professor Scott Fahlman, a computer scientist at Carnegie Mellon University invented the side way smiley face also known as an emoticon. Here is one of the many cool facts about how smiley started. The man behind the smiley graphic was only paid a meager amount of $45 for the design.
In the 90's, Shigetaka Kurita came up with the first prototypes for emoji when he realized that communicating with words (or in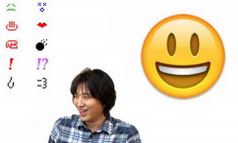 Japan's case, Kana) wasn't enough. Originally meaning pictograph, the word emoji comes from Japanese. The resemblance to the English words "emotion" and "emoticon" is purely coincidental.
Fast forward to the year 2015. 2015 saw a sizable increase in the use of the word "emoji" and Oxford, recognized its impact on popular culture. Perhaps this explains somewhat why the emoji was chosen by Oxford Dictionaries as the 2015 Word of the Year. I kid you not!
In 2015, it was announced that Sony Pictures Animation was planning on making a feature animated film based on emoji. Sony Pictures Animation has set an Aug. 11, 2017, release date for "The Emoji Movie.
Today, the Emoji has become so popular that companies like Fun 2 Play Toys are cashing in on the popularity with Emoji merchandise. They have released a line of products titled Emojiez.
The Emojiez are Here
Emojiez come in a variety of styles, including Plushiez (large and medium plush), Plushi Palz (plush backpack clips), Slap Bandz (slap bracelets), All-Starz (3.75″ vinyl figures), Squishiez , Eraserz ( erasers) Buddiez, which are part of the micro/mini-collectible craze),  stickers and more.
Much from the Emojiez line makes perfect stocking stuffers.
Squishiez are miniature plastic toys. They are true to their names. They are squishy to the touch and double as pen toppers.
Eraserz is another series, which is based on the classic characters. However, they do serve a functional purpose as working erasers.
Plushiez come in 2 sizes the 6″ and 14″.  They will make great additions to your child's  bedroom decor.  Are you participating in a Secret Santa exchange? Gift them a poop emojiez.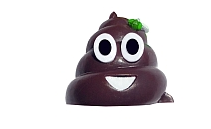 Out of all the emoji series, the Buddiez are certainly the most unique. They feature a line of twelve original characters that come complete with trading cards. The cards tell you the Emojiez name and story. The price point for the Buddiez is very reasonable. You can get the single foil pack for $1.99 at Toys R US Canada. You never know what character you will get until you rip open the package. Your kids will want to collect them all- including Smelvin, who stinks, but is lovable.
To learn more about Emojiez visit them at http://emojiez.com/
About Fun 2 Play Toys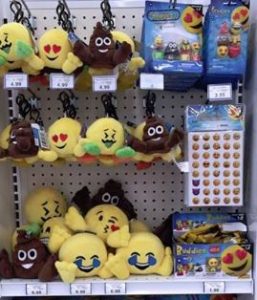 Fun 2 Play Toys is a dynamic group of people with the same goal, 'Bring fun and laughter' to the end consumer.  The company delivers wacky and unique toy products to the market. Given the success of the Emojiez line, Fun 2 Play Toys is planning to release many more items in the near future. Look for additional Emojiez products in 2017.