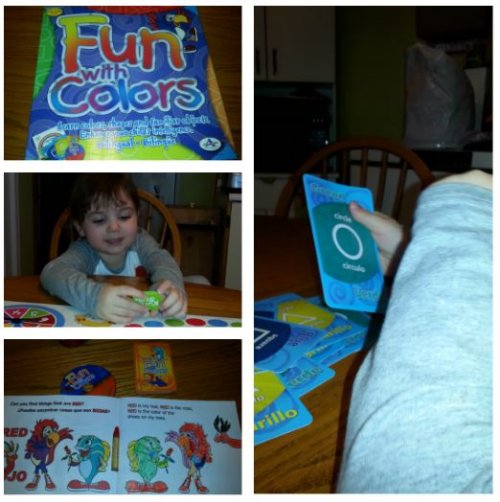 Preschoolers are the easiest people to shop for. They are enthusiastic about almost any new toy they unwrap. But if you want that initial excitement to last beyond Christmas morning, this upcoming holiday gift the preschool in your life a meaningful gift that will last a lifetime. There's no better Christmas gift for a child then the gift of learning. Teach the  preschooler in your life about colors and shapes with Fun With Colors by Talicor. Incorporating memory, verbalization, decision-making and more essential skill sets, it's the perfect activity for early learners.
Children usually learn about color during their preschool years. The ability to identify colors is a milestone in a child's cognitive process. In fact, learning shapes and colors may well be a young child's first educational endeavor.
While Fun With Colors by Talicor is recommended for children aged 3 and up, children as young as two can learn their colors with Fun With Colors. The game includes 1 card game, 1 DVD, 1 workbook and instructions in English and Spanish.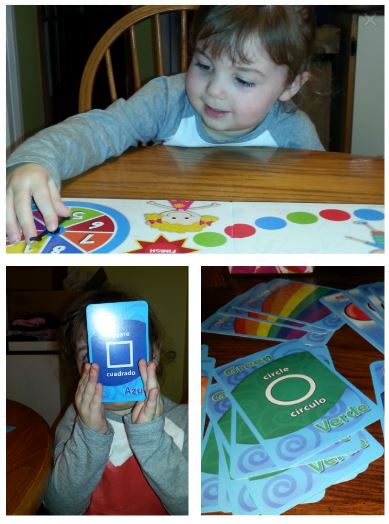 There are 52 game cards total. The cards have both English and Spanish writing on them. The flashcards use shapes and teach color recognition. Cards are divided into 6 color cards of red, purple, yellow, blue, green and orange. Each of the color cards have a shape which identifies with the color card. Example: green circle, blue square and purple oval. There are also color mixing cards: red and blue make purple, red and yellow make orange, and blue and yellow make green cards. Included in the deck is 4 rainbow cards that include 6 colors of the rainbow.
We started our Fun With Colors game play by shuffling together yellow, blue, and green cards. I then asked my daughter to identify the color and shape on each card. Breaking down colors and shapes one by one is much easier than learning a bunch of colors and shapes at once. My daughter can differ between and triangle and circle, but a square is new to her.  Repetition is a powerful tool that can help children learn new concepts
Color matching is another way to induced color learning to children with a game. Based off the typical matching game of remembering where two like cards are to make a pair, preschool children can use the cards in the Fun With Colors game to compare colors and match the same ones together to win.
Because the cards have both English and Spanish text children as young as three can use the Flashcards to learn their colors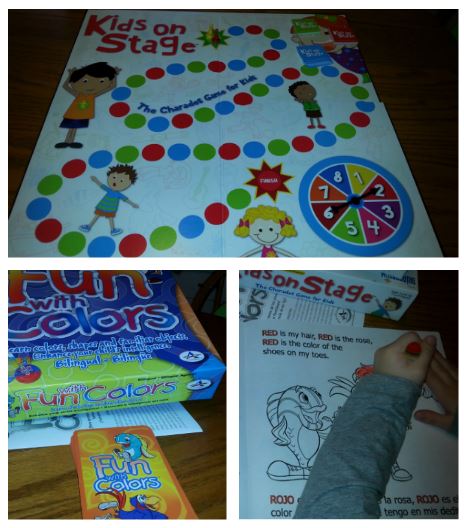 in Spanish, there making Fun With Colors by Talicor a fantastic language game. I only wish the cards were available in french as well.  I would love for my daughter to be French English bilingual.
The Fun With Colors coloring book is a wonderful picture- coloring book combination designed to help children master colors.  The included bilingual activity book features English and Spanish, so children can switch back and forth in a natural way that facilitates easy recall. The fun to read sentences on each page will make a huge splash with preschoolers. The Fun With Colors book enforces listen skills and  teaches young children to follow directions.
When assisting children with the activity book. it's important to identify objects within each color, and ask your child to repeat words and identify the objects and colors.  My daughter loves to color, and over the activity book was a wonderful way to introduce colors to my daughter, and also improve her listening skills.
Learning sequencing is an important factor in pre-reading skills. The Fun With Colors video is a fun teaching tool to begin a child's bilingual education. The earlier you introduce a second language, the easier it will be for your child to pick up its unique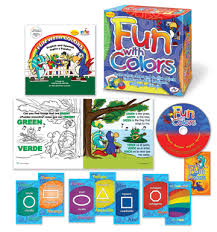 sounds.  The DVD covers colors in  English, French, Spanish, and Portuguese. We found the words to be spoken clearly and I liked that the DVD contained a great deal of repetition. The DVD features children, characters and child friendly objects throughout the DVD, so it kept my daughters interest.
Overall,  Fun With Colors by Talicor is an effective learning tool, which entertains and educates. This is the first product that I have been introduced to from Talicor. As a parent I look very forward to exploring more of their educational material. The games produced by Talicor are mostly family, education or Christian-themed. Be sure to check out their full range of games at http://talicor.com .
Need more gift ideas? Check out our Christmas gift guide!
Do you have a favorite book or game that teaches color? We would love to hear your recommendations for Christmas preschool gift giving.
Purchase via Amazon.ca & Amazon.com.