LeapFrog is well know known for creating educational toys for children that make learning enjoyable and fun. If you're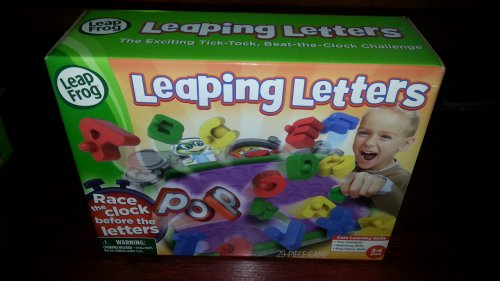 searching for something that will help your child develop their alphabet abilities, then Leaping Letters from LeapFrog is our recommended choice. The LeapFrog Leaping Letters game is suitable for ages 3-6 years although children as old as 7 may have some fun with this game.
Leaping Letters from LeapFrog is an alphabet, and word building game that comes with a plastic game board, 26 letter pieces with peg-like handles, a Word Building Card, and a Word Building list.
The 26 letters are color coded to provide different levels of difficulty.
To play, remove all the letters, select a challenge level by moving the timer needle, then lock the tray by pushing it down. Press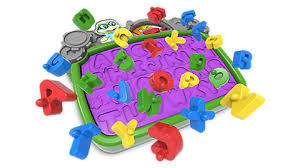 the start button and try to get the letters into their corresponding spaces on the tray before time runs out, and the letters pop. You can adjust the difficulty level by just reducing the timer which makes it even more fun.
For a bit older child on the spectrum there is also a word building game. You place the card into the designated spot on the tray and try to build as many words on the list as possible using the letter pieces before the timer goes off.  This is perfect to help learn the basics of putting a word together. The words are just three letters long. We won't be ready to explore this method of play for a bit yet as my daughter has not begun to recognize letters, but as a mom I love that this toy will grow with her.
Overall, Leaping Letters from LeapFrog makes a great gift this holiday season.
About LeapFrog
LeapFrog Enterprises, Inc. is the leader in innovative solutions that encourage a child's curiosity and love of learning throughout their early developmental journey. For 20 years, LeapFrog has helped children expand their knowledge and imagination through award-winning products that combine state-of-the-art educational expertise led by the LeapFrog Learning Team, innovative technology, and engaging play – turning playtime into quality time. LeapFrog's proprietary learning tablets and ground-breaking developmental games, learn to read and write systems, interactive learning toys and more are designed to create personalised experiences that encourage, excite and build confidence in children. LeapFrog is based in Emeryville, California, and was founded in 1995 by a father who revolutionised technology-based learning solutions to help his child learn how to read. Lean more at www.leapfrog.com.