Board games are a fun family activity. Who doesn't love playing games? In addition to quality time together as a family, children learn how to take turns, as well as board games give an opportunity for parents to teach children how to be a good sport. I spy is a fun and family-friendly guessing game that children of almost any age can play. Many of you will recall playing the game when you were a child. The I Spy Eagle Eye game puts a fun twist on the popular I spy game.  The game is based on the best-selling Scholastic book series by Jean Marzollo and Walter Wick. It is the perfect board game for preschoolers and school aged children.
I Spy Eagle Eye instructions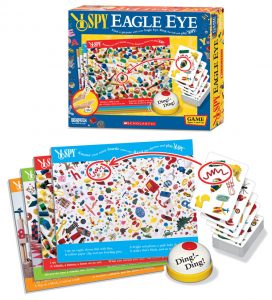 To begin playing I Spy Eagle Eye, a game board is given to each player. The game board features pictures of various objects, such as toy cars, blocks, letters, beads, and balls. Each side of the game board has a different picture, and there are four game boards, making eight pictures in total. The remaining of the game consists a bell and thirty double-sided playing cards with eight pictures on each.
Players all play the game at the same time. Each player draws a card from the stack and looks at the eight images on the card. They then to figure out which ONE object is a match with an object on their game board. The first player to find their particular match rings the bell. Therefore, not only do they have to find an object first, but they also have to figure out just which object you need to find. Everyone has an equal chance at winning despite age.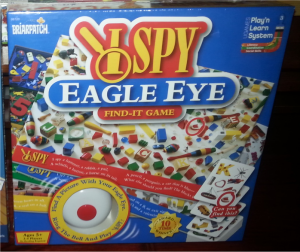 I Spy Eagle Eye suggested age is five and up, but children as young as 3 can play, as the game requires no reading skills. The game is good for memory and matching exercises, as well as for snow days this winter season. With I Spy Eagle Eye kids will be anything but bored.
About University Games
Founded in 1985, University Games has developed and manufactured over 500 games, puzzles, and children's learning and activity sets. The company philosophy has always been to offer products that encourage fun, creativity, and imagination for kids, families and adults. The company offers a wide array of products under the University Games®, Briarpatch®, BePuzzled®, U-Create™, Great Explorations® and Front Porch Classics® brands.
Website: universitygames.com.
What are your family's favorite children board games?
Be sure to check out our holiday gift guide for other fun games for the entire family to enjoy.