Bring to life your own frightening 3D creations with Fright Factory Creature Creator Kit. Kids can make rubbery creatures like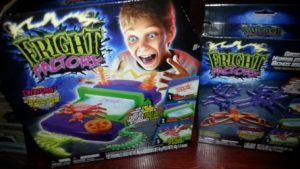 worms, and spiders come to life with an easy to use 3-D kit! The kit comes with the fright factory creator stage, three molds,  one tube of green gel, and a bonus tube of blue gel.
Once you've injected the EwwGoo, place the mold on the FRIGHT FACTORY'S creature creation table.  Since the EwwGoo hardens when it cures, you should tidy up any overage with a cotton swab for best results.
Powered by 3 AA batteries (not included), kids crank a lever and let the UV light do it's thing!   An ultraviolet LED light then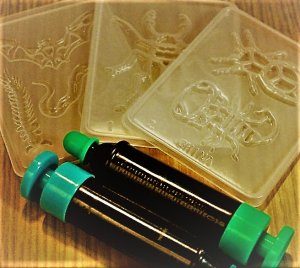 slides back and forth over the mold as they crank. After a couple of minutes of cranking the EwwGoo hardens into a plastic bug. Once you're the bugs easily pop out of the mole.
No heat or glue is required and now you have a cool looking 3D toy.  Best of all, there is no mess! Since the curing process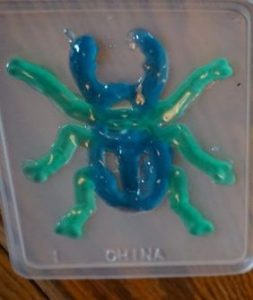 uses light instead of heat, it is perfectly safe for the kids aged 6 plus to do themselves. You'll need three AA batteries to power the Creature Creator, and those are not included.
It is a bit of trial and error to figure out how long the EwwGoo gel to harden. We recommend about 15 min.
Overall, Fright Factory Creature Creator Kit is perfect for both boys and girls. Refill kits featuring more EwwGoo gel, Creepy Creatures, Gross Bugs, and Beyond the Grave themes are also available and sold separately.
About Tech 4 Kids
Tech 4 Kids is a global marketer of trend-driven, innovative and educational toys for today's kids. The company has a passion for developing meaningful play experiences that deliver wow and create smiles! Some of Tech 4 Kids most popular brands include: Mash'ems, Fash'ems, Squishy Pop's, Micro Lites, 3D Magic, Storytime Theater, Lite Force, Spot Lite and Outer Edge. Within these brands Tech 4 Kids produces a wide range of products based upon popular children's entertainment properties, including: Disney, Universal, Hasbro, Marvel, Star Wars, Warner, DC
Website: http://tech4kids.com