Dust off the barbecues and stock up on your sun screen; as it looks like summer is officially here. We have certainly been feeling the heat here in Ontario. As you well know kids can become extremely irritable during hot weather. One way to cool off when hot weather strikes is with a good old-fashioned water fight.
Invented by Lonnie Johnson in 1984, made popular by Michael Jackson in 1990, and purchased by Hasbro in 2002 for decades now super soakers having been helping both adults and children cool down when the weather heats up.
Super Soaker is a brand of recreational blasters that utilizes manually-pressurized air to shoot water with greater power, range, and accuracy. Nerf blasters are the perfect toy to keep your kids happy, cool, and safe during the hot summer months!
The leader in innovative water play, the Nerf Super Soaker brand brought us three fun blasters-just in time for our summer water battles.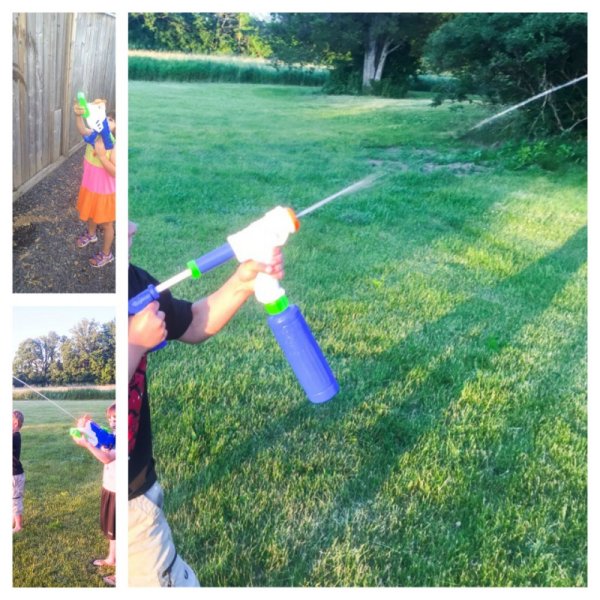 The Nerf Super Soaker Bottle Blitz is a water blaster that uses a water bottle as its water tank. The Bottle Blitz comes with a 15.7 bottle and shoots over 30 feet. The blaster works with a simple pump motion. You can use most water bottles you'd have at home, or upgrade to a larger soda bottle for more fire power. While recommended for children aged 6 and up, younger children will be able to use the blaster too. We love that this blaster features the ability to add a soda bottle for larger water capacity. The pumping motion was easy and smooth.
The Super Soaker Breach Blast is a classic pump action super soaker designed for kids ages 6 and up. The tank has a comparatively huge 50-ounce capacity ( just over three pints of water) and a really nice long range. While recommended for children age 6 and up, we found younger children were able to manage it. We found it to be well balanced, and was able to get our testers opponents super wet and as quickly as possible.
The Nerf Super Soaker Scatter Strike, like the Nerf Super Soaker Breach Blast, is a new pump-action water blaster from Hasbro for 2016. Unlike the Breach Blast's single nozzle, the Scatter Strike features 5 nozzles in a cross-like pattern. While recommended for children aged 6 and up, our four year old tester had no issues managing the Nerf Super Soaker Breach Blast.
With Super Soaker toys from Hasbro, kids both young and old can get together and head outdoors to unleash maximum soakage. Now it's time to grab your favorite Super Soaker water blaster and join in on the summer fun. Tell us, what blaster will you be using?
About Hasbro
Hasbro, Inc. (NYSE:HAS) is a worldwide leader in children's and family leisure time products and services with a rich portfolio of brands and entertainment properties that provides some of the highest quality and most recognizable play and recreational experiences in the world. As a brand-driven, consumer-focused global company, Hasbro brings to market a range of toys, games and licensed products, from traditional to high-tech and digital, under such powerful brand names as TRANSFORMERS, PLAYSKOOL, TONKA, MILTON BRADLEY, PARKER BROTHERS, CRANIUM and WIZARDS OF THE COAST. Come see how we inspire play through our brands at http://www.hasbro.com.