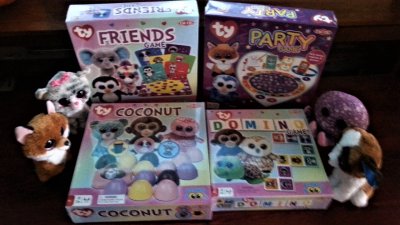 Ty Beanie Boos are a line of cute collectible plush. Their oversized eyes and endearing expressions make them a favorite, adored by children everywhere. In time for the holiday season, Tactic Games brings you several cute Beanie Boo Games featuring the adorably cute Beanie Boo characters perfect for the holiday season and gift giving. With these fun games your preschooler will  not be bored.
Tactic Ty Beanie Boos Friends Board Game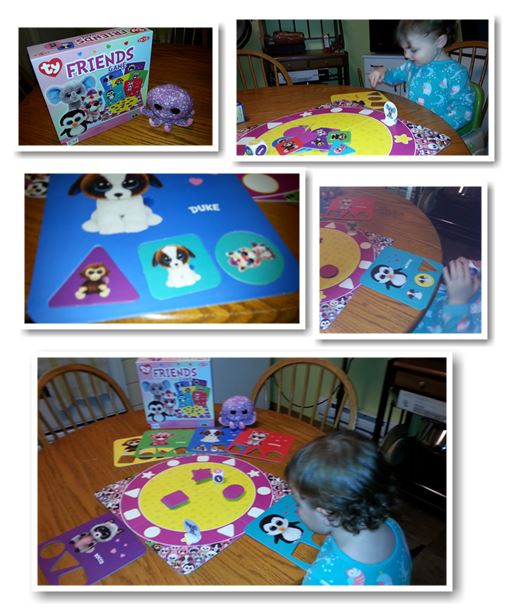 Having been awarded with the 2015 Dr. Toy Best Vacation Products Award and the National Parenting Publications of America (NAPPA) Silver Award, The Beanie Boos™ Friends Game is a cute, educational game, especially if your kids collect Beanie Boos!
The Beanie Boos™ Friends Game (for 2-6 players, ages 4–8) features the Ty fan favorite Beanie Boo™, Peanut the Elephant, who needs help finding all of his Beanie Boos™ friends! The Beanie Boos™ have gotten lost on the game board and Peanut needs help to find them. Different colors and shapes make the task exciting.
Though the game is recommended for children aged 4 and up, my daughter begun playing it at the age of 3. The game includes, the game board, the playing cards with three punch out pieces on each one, a die w/ stickers, and a playing piece.
Punch out all 18 okaying cards and place them face down on the game board. Place Peanut the Elephant on start. Have each player choose a Beanie Boos playing card. Everyone takes turn rolling the die, with the youngest player rolling first.
Depending on the shape you land on, you pick a piece and see if it matches the color and shape on your board. The star shape allows you to pick a piece of your choice. If you are the first player to collect all your character's shapes, you win the game. The game takes about 15 minutes to play, which is just long enough for my daughter's short attention span.
For younger kids, this is a great way to reinforce things like matching colors and shapes. The colorful content of the game makes learning fun! The game comes in a nice sturdy storage box which makes cleanup easy.
Tactic Games Ty Beanie Boos Domino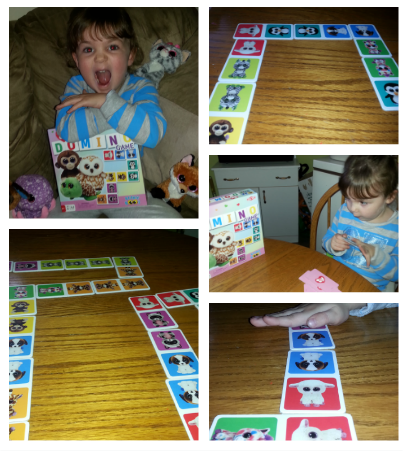 TY Beanie Boos Dominos gives a new spin on a classic game. The basic rules of Dominoes still come into play.  This time Beanie Boos need to match up. We found this to be a very simple game for our daughter to learn and best of all she had fun playing.
To play all dominoes are shuffled face down, and each player draws five tiles. The remaining dominoes are left in the middle of the table as the draw pile.
The youngest player starts the game by placing any domino tile on the table. The turn passes clockwise. Place the Dominos as a chain on the table. On your turn you place one domino from your hand and add it to either end of the domino chain, so your connecting domino matches. If a player is unable to play they must take a domino from the pile; If still unable to play they add it to their hand and play passes to the next player. Whoever plays their last domino wins.
Overall, TY Beanie Boos Dominos is suitable for preschool, and kindergarten aged children.
Ty Beanie Boo's Coconut Game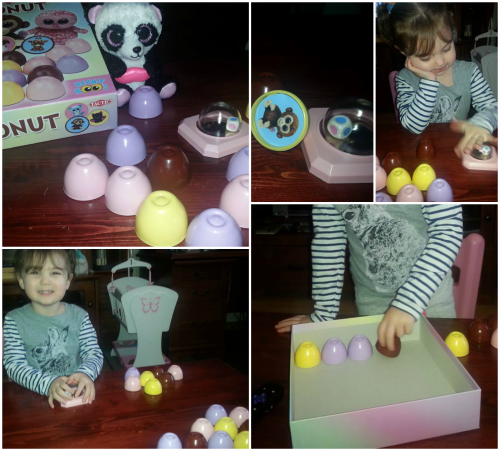 Beanie Boos Coconut game is, a concentration-memory game with half-shell coconut shapes hiding the character matches.This is perhaps my daughters favorite game at the moment. We have played it several times together. It is a great game for concentration, memory and practicing taking turns.
We have also used the coconuts to practice counting and for color recognition. When game play is over, clean up is super easy. In fact, my daughter puts it all back in the box herself. Overall, This is a simple fast pace game that children as young as 3 can play.
Before the game begins you punch out all the tiles from the cardboard card and place one tile inside each coconut. Place the coconuts down on the table mixing them up.
The youngest player begins, popping the popper with build in die.  They turn over one coconut. It the picture matches with the color on the die they keep the coconut. If it does not match, they return the  coconut back to the table and the next player goes.
If you turn up Igor the bat, you have to return Igor to the table, as the game ends when Igor is the last coconut left. The player with the most coconuts wins.
Ty Party Board Game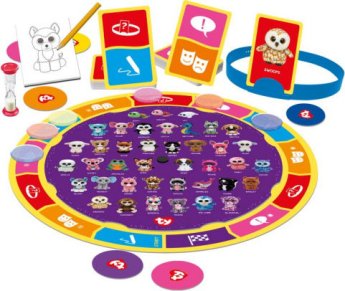 Ty Party board game is four exciting party games in one. It features forty adorable beanie boo characters.  This game combines elements from four classic games- pictionary, charades, 20 questions and taboo.
Players move their playing piece around the board attempting to be the first player to make it around the board.
During a player's turn, they draw a card that indicates if they have to Draw, Describe, Act Out, or Guess the Ty Beanie Boo's character on their card. You have 40 seconds, until the sand in the timer runs out, to perform that action and try to get the other players to guess correctly. If they do, you and the player that guessed correctly, move forward one space. 
Why recommended for kids ages 8 and up, Tanya and I think kids as young as 5 would enjoy it with mom or dad's help to read the cards.
The game includes everything needed to play including a game board with a character guide, word cards, character cards, card-holder headband, a pencil, drawing pad, timer, play pieces, and markers to keep track of which color play piece everyone has.
We hope you have enjoyed our review of these Beanie Boos Games. Be sure to check out other Beanie Boo Games such as Beanie Boos Kimble, a classic chase game with pawns and bubble-pop dice mechanic and classic games with a Beanie Boos theme such as Go Fish, and playing cards.
About Ty, Inc: Ty Inc. is the largest manufacturer of plush in the world. Peek-a-Boo's are the latest innovation from Ty, allowing you to use your phones hands-free and eliminate "tech neck". For more information please visit www.ty.com.
About Tactic Games: Tactic Group® is an international and fast growing developer and marketer of board games in Europe, now launching in the U.S. and Canada. Their mission is to produce entertaining games that offer moments of genuine delight and entertainment to family and friends the world over. To discover more about Tactic's wide range of games, visit www.tactic.net/USA and get all of the most up-to-date, immediate information by interacting with the company on its social media channels: Facebook, Twitter, Pinterest and YouTube.