For 35 years, My Little Pony toys have been bringing magical fun to millions of children worldwide.
These vinyl toys have been on many letters to Santa over the years. And the fun continues! My Little Pony toys are definitely a favorite in our house. My daughter is always looking in the toy aisle for a different character to add to her ever growing collection. For Christmas she has asked for the My Little Pony Friendship Express Train. Which I think is a great new addition to any fans' My Little Pony collection.
Recommended for ages 3+ this three-piece train comes with some cute accessories. Such as a purple roll-on suitcase, a conductor's hat for the included Princess Twilight Sparkle pony, and a little pony-sized map to point you towards pony-tastic adventures. Kids will like pretending to transport Princess Twilight Sparkle pony and the other ponies (sold separate) all through Ponyville by train and creating new adventures for the ponies.
Kids can pretend to serve the pony friend passengers with the drink accessories, load the caboose with luggage accessories, and pass out paper tickets. The caboose roof opens up to make a bed for pony friend passengers. And the sleep mask accessory helps set the bedtime scene.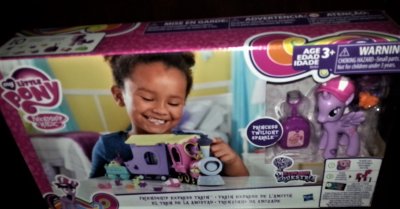 The My Little Pony Explore Equestria Friendship Express Train can be pushed along the ground easily. The purple train car has two doors that open, making it very fun for little hands to play with. There are rolling wheels on all 3 cars-an engine car, train car, and caboose.
Overall, this train is sure to engage children and encourage pretend play. Kids can scan the code on the Princess Twilight Sparkle figure to unlock more fun in the My Little Pony Celebration app.
Tell us about your my little pony obsession.
Learn more at www.hasbro.com, hasbro.ca and follow on Twitter (@Hasbro & @HasbroNews) and Instagram (@Hasbro).