In today's world, technology offers so many options when it comes to toys. And yet plush toys still remain one of the most
popular. Throughout our childhoods most of us can recall one of our favorite treasured toys. In most cases it was a soft plush.  The right type of plush toy can assist your child's learning capabilities more so than other toy.  Aurora World Baby Talk line provides an all-in-one, interactive playtime experience, which encourages learning and development in children through colors, associated sights and sounds.
Aurora World Baby Talk Safari Jeep
One of the basics of learning is the ability of recognition. "Aurora World Safari Jeep " is a great way to teach children about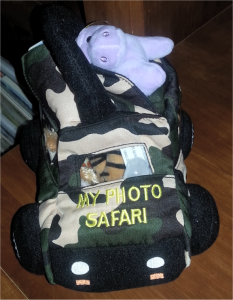 different jungle animals. The jeep includes four plush toys- giraffe, hippo, elephant and tiger. All of the animals make their own sound. The giraffe rattles, the hippo squeaks, the elephant makes a trumpet sound, and the tiger growls.
While the set is recommend for children ages 1 to 3, younger babies can enjoy Aurora's World Safari Jeep with parent supervision. The set is easy for mom to take the plush toy set anywhere, thanks to the set's handle and Velcro enclosure. The jeep would also make for a cute decoration in a nursery- until baby is old enough to play with it.
The playset is made of all new, child safe materials and meets or exceeds all U.S. safety standards. Cleaning is very easy. You can gently wipe the stuffies down with a damp cloth.
Other Aurora World Baby Talk sets include My Aquarium, My Barnyard Friends, My First Pet, My First Purse, My First Discovery, My Forest Friends, My Beach House, My Farm Friends, My Sand Castle and My Fantasy Castle.
Aurora World is an industry leader with over 30 years of experience designing and manufacturing innovative, high quality plush products. Aurora products are available in more than 25,000 specialty stores and gift shops worldwide as well as online at http://shop.auroragift.com, Amazon.ca & Amazon.com.