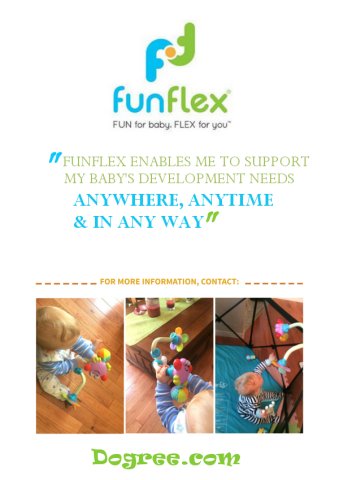 The first day of summer isn't that far away. With summer comes a family vacation. I don't know about you, but this mom loves fun portable toys that will keep baby entertained while on vacation. Fun Flex is a modular system that includes interchangeable toys, clamps, rings, connectors, and flexible arms that allows me to take developmentally stimulating toys for my son everywhere I go this summer from the car, to the playground, to the hotel room, to the family restaurant with ease.
The FunFlex Multi Flex Set includes 11 fun and flexible combinations. The package contains 7 Pieces: 1- Clamp, 1- Hang connector ring, 1- Dual connector, 2- Flexible arms, 1- Dancing Crab toy, and 1- Flower Rattle toy.
The super cute dancing crab toy has a bell ball that jingles when my son shakes it, and if he pulls it down and let go, the crab shakes and dances. Alexander did not really like the vibration the crab made and mommy found it rather loud.
The ball also features different textures, allowing my son to explore sense of touch. This toy also immediately reacts to my son's actions, making it a great way to introduce him to cause and effect.
The Flower Rattle has multiple fabric textures that encourage my son to explore sense of touch. The crinkly material and colorful rattle beads create
fun sounds as well, and the high contrast colors stimulate his vision.
The FunFlex Multi Flex Set really is a versatile product. I have clipped the toy to our playpen, stroller and table and also used it as a standalone toy. I did find the claps do not attach well to thicker services. It did not attach to our highchair. The flex arm could have been a little longer too.
Nonetheless, my son Alexander really likes the included toys. He likes toting them around, and doesn't really care if they are attached anywhere. I look forward to purchasing and blogging about more products from Fun-Flex.
Fun-Flex products are available in Canada via DoGree Fashion Limited.
Agata is a PSW and married mother of one. She enjoys taking time from her busy life to try new products and write for us.