Power Poppers are fun, self propelled, toys intended for fun and play outdoors. No batteries are required for this toy. The soft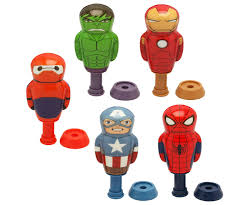 and durable foam figure stand about three inches tall and can jump up to six feet high.
Each Power Popper comes with their own easy loading base. To activate Power Poppers, simply  press the bottom launcher into the cap-like base and tap the bottom of the Power Popper character on the ground. Make sure to let go as your foam super hero soars high into the sky.
You can even challenge your siblings and friends and see whose Power Popper can fly the highest.
The Power Poppers are light-weight and because the Poppers are foam they do not cause any harm if you are accidentally hit by one. However you may want to be careful with very small kids. These are recommended for ages 8+. When using the Power Poppers, make sure you keep your face out of the way. Adult supervision is recommended.
Sometimes the best toys are the simplest ones, and that is exactly the case with Power Poppers.
Currently Power Poppers come in MARVEL super hero themed designs ranging from Captain American and Iron Man to Hulk and Spiderman.
If you're looking for a little stocking stuffer for your kids why not check out the Power Poppers from Imperial Toy.