Funrise Toys, an industry leader and innovator in the manufacturing and distribution of the most popular children's toys, has just launched products that are perfect for any outdoor activities. Whether you're racing through the boulder avalanche, chasing bubbles or having a booger battle, Funrise has everything a child needs to have some innocent summer fun.
If there is one summer activity that children, both young and old can never get tired of, that is blowing bubbles. Bubbles boost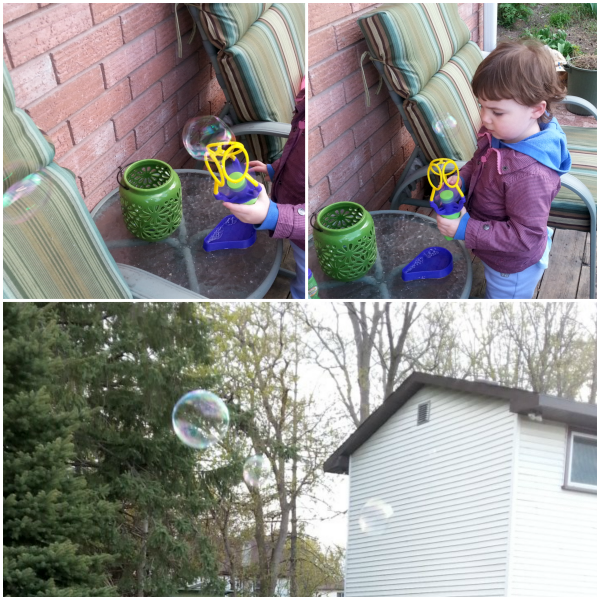 eye-hand coordination and gross motor skills, as well as language development. Plus, your youngster will learn about cause and effect and basic physics. Blowing Bubbles can also be a fun way to get kids active as well. Encourage your child to run after the blowing bubbles or let them land on her arm.
You or your child can now create three times the amount of bubbles with "The Gazillion Bubbles Triple Bubble Blaster" from Funrise.
This motorized bubble wand let's kids power up an array of bubbles in three directions at once. The blaster comes with a four-ounce bottle of Gazillion Premium Bubble solution and a tray to hold the solution. You can also opt to make your own solution or purchase more Gazillion Premium Bubble solution if you run out. 2 liters of Gazillion Bubble Solution retails for $9.26 on Amazon.
After you've poured enough solution into the tray, dip the blaster into the solution, rotating to coat all sides. Then press and hold down the button on the side of the blaster to activate. A foam fan sits below the wands to produce a continuous upward draft of air to blow the bubbles. While the bubbles are not edible, Gazillion Bubbles does use a non-toxic and no-stain solution.
The Gazillion Bubbles Triple Bubble Blaster is preschool tested, mom approved. Recommended for children ages 3 and up, my 3-year-old daughter gave the Bubble Blaster a try. We have quite the collection of bubble products, so this was a welcomed addition to our backyard fun! The toy requires 3 AAA batteries (which are not included) and then you are ready to play!
Once my daughter showed me how to do it, I gave the wand a try myself. Yes, you read that right. A three year actually showed an adult how to use the blaster.
This toy retails for $13.99 from Toys R Us and would make a great summer birthday gift or gift for your own children for fun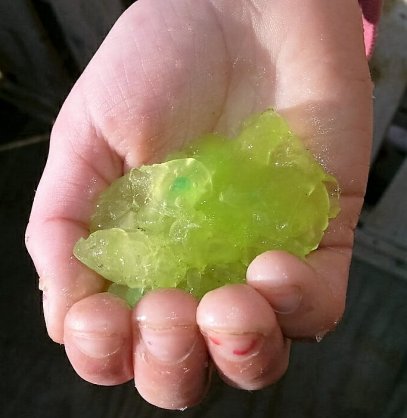 outdoor play.
Mix 'Em, Pick 'Em, Flick 'Em! Booger Balls is a toy that is made for kids that like gross things. Imagine getting to throw slime balls at people! The Booger Balls starter kit comes with everything you need to make slimy boogers and stage a fun and gross booger battle. This is a slimy and gross game that recently got my neighbors grandchildren outside of the house, away from the computer and video games.
The Booger Ball starter kit includes 2 solution powder pouches and 1 booger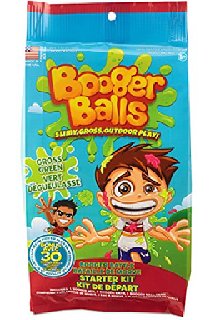 mold tray. You will need two bowls, both filled with warm water. Poor the booger solution into one bowl and the booger bath into the second bowl. Mix the solution until well dissolved. Fill the tray with the booger solution and then dip the tray into the booger bath. The balls will come out of the tray into the solution.
The solution is rather messy, and for our testers didn't really form into balls that were well formed and easy to throw, but I don't think the kids left the balls in the bath long enough. The way booger balls work is that the booger bath interacts with the booger solution to create a skin on the exterior of the booger balls. The longer they stay in the bath, the more the solution sets. There's definitely a bit of a learning curve on it, but the kids had fun and grandma got her windows washed after the fun was over.
Booger balls are completely non-toxic, biodegradable, and will not stain clothing, upholstery, or paint, so you don't have to worry about what they splat on! It is however suggested that the solution is rinsed with water after play and not left on walls or clothing overnight to avoid residue.
If you're looking for some fun toys for to keep your kids busy this summer, then I would recommend checking out Funrise Toys.
About Funrise Toy Corporation
Founded in 1987, Funrise is an adventurous innovator of superior toys and an industry leader in the manufacturing and distribution of the most popular children's toys. Funrise's core property portfolio includes Gazillion Bubbles(R), ZOOOOS(TM), Nylint(R), Doctor Dreadful(TM), Head Bangers(R), Home Arcade, Tub Town(R), and Play 'n Pretty(R) with leading licensed power brands such as Tonka(R), Disney(C), Sesame Street and more. Funrise has offices in Van Nuys, CA, Hong Kong, United Kingdom, and France with additional showrooms in New York City and Bentonville, AR. The company is operated by its founder, Arnie Rubin, who also serves as Chairman of the Toy Industry Foundation (T.I.F.) and past Chair of the Toy Industry Association (T.I.A.). Funrise's success results from its commitment to quality manufacturing, progressive marketing and a values-based corporate culture.