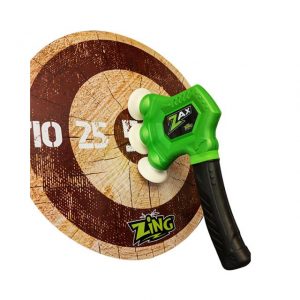 In case you hadn't noticed, axe throwing is now officially a thing. The first axe-throwing bar in North America opened in Toronto in 2011. Sense then axe throwing has been a rapidly growing sport and gaining popularity across Canada.  Just ask my brother of The Soaring Pig who gave it a try just this past summer when he visited Ontario.  Now just in time for the upcoming holiday season Zing toys has brought the popular sport of axe throwing into the home with ZAX Throwing Axe.
Perfect for the office Christmas party or a relaxing night in the home pub, ZAX Throwing Axe lets you practice the sport without using an actual axe.  This might be a good thing if you have had one too many whiskey cocktails.
Standing 12 inches tall the toy axe is the size and shape of a regular axe. Important to note, ZAX is made of Softtek foam with quicktek release so it does not scuff the walls at all. The edge of the ZAX head comes with three suction cups, allowing it to stick to flat surfaces upon contact. Find a flat surface, toss ZAX, and it will generally stick to it. Now your friends, co-workers, or family can relieve some stress and have some fun at the same time!
You can use ZAX indoors or outdoors, but it does require a flat surface to stick to. Given its lightweight foam structure, throwing the foam axe does require some getting used to.  Age recommendations is five and up. As previously mentioned there is definitely a learning curve to becoming an expert ZAX thrower.  Therefore, we feel that the ZAX Throwing Axe better suits a child eight years and over.
Bring the excitement of axe-throwing home
Overall, Zing Toys ZAX is a great toy for at home or the office when you need a little stress relief. If you have an older child that finds the concept of axe throwing interesting, or a brother that needs to blow off a little steam then ZAX is the perfect gift for them.  It gets you off the couch and away from digital distractions.

Check out the action in the below video.
Be sure to check out ZAX and other great gift suggestions in Today's Woman Christmas Gift Guide!
Website: https://zing.toys/zax
Shop Amazon for ZAX
 Win a ZAX Throwing Axe from Zing Toys
Giveaway is open to US & Canadian residents 18 years and over.