Twister is a fun game that has stood the test of time. People have been getting twisted and tangled playing Twister since the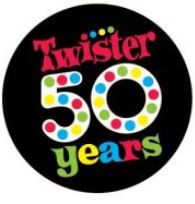 1960's! Twister patented by Charles F. Foley and Neil Rabens in 1966, did not become a success until the actress Eva Gabor played it with Johnny Carson on television's Tonight Show on May 3, 1966. When Milton Bradley first published Twister in 1966, some decried it because of the physical contact that is required to play. Despite that by early 1967, more than three million TWISTER games were sold.
In 1985 Hasbro acquired the Milton Bradley Company, becoming Twister's parent company.  Today the iconic TWISTER brand is popular as ever and on May 3, 2016,  TWISTER celebrated its 50th anniversary. In celebration of the brands anniversary Hasbro, Inc. is inviting TWISTER fans across the nation to rock the dots and pay tribute to the classic game that has been tying players up in tangled knots for 50 years.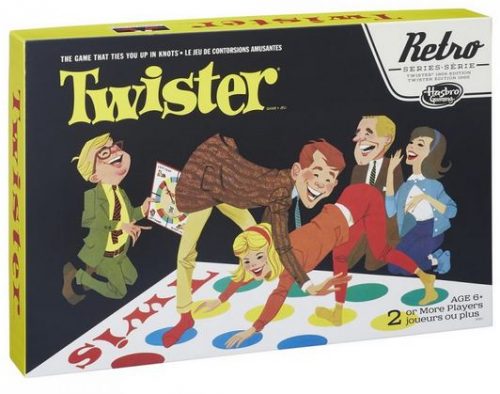 I remember how much fun it was to play Twister when I was a child. For those of you who have never played Twister,  it's really simple. The game is played with a small spin board and a large floor mat with colorful spots printed on it. Two or more players play at the same time by taking turns following the instructions given by the spin board, instructions like "place your left foot on a red spot" or "place your right hand on a green spot".  Plus, no two players can be on the same dot at the same time, so it makes for a lot of tricky and hilarious moves. The object of the game is to follow all the spin instructions without falling or touching an elbow or knee to the mat. The last player that does not fall is the winner.
You do need a big enough space for the mat and some room around for when a player falls over. In most cases when one player falls over, more will likely follow.
Twister is a game that can be played by a variety of age groups, with the recommended age of 6 years of age and older.  It is a great game for family game nights or outdoor summer time fun.  It is one way to get your kids to be active without them actually realizing it.
Today there are two versions of the classic game available. The retro version is the version I remember from my childhood. In the revised version the game no longer involves only a hand or a foot on a colour, but now it has random things like "in the air" and l spinners choice. There is also an additional set of commands that combine activities like "put your left food on red and bark like a dog." This adds a whole new interactive dimension to the game making it even more fun to play!
This fun family game is the perfect addition to any outdoor get-together. My neighbors grandchildren recently had a great time playing the revised version of Twister out side and it was a great way to get them away from the video games, computer, cell phone and outdoors.
Do you remember playing Twister as a child? Do you still play it today?
Here are a few fun facts about the Twister Game history.
1966: The team brought "Pretzel" and other mat games to The Milton Bradley Company in Springfield, Massachusetts where the executives considered the concepts. Mel Taft, senior vice president of Research and Development, chose "Pretzel" after watching other employees get tangled up while demonstrating it.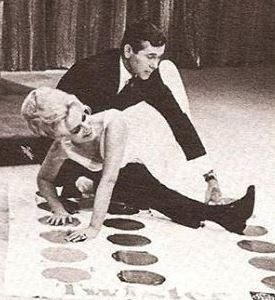 The Milton Bradley Company officially changed the game's name to "TWISTER." The company faced social issues as it was socially unacceptable at that time to be as close to others as the game of TWISTER required. Taft was still convinced the TWISTER game would sell and The Milton Bradley Company scheduled its first appearance for Toy Fair.
• On May 3rd of 1966, The TWISTER game's debut on "The Tonight Show" sent consumers rushing to the stores to buy their own TWISTER game. Abercrombie & Fitch was the only store left with any TWISTER games in stock and it soon became overwhelmed with customers. Eventually, Sears changed their minds and restocked the TWISTER games. By early 1967, more than three million TWISTER games were sold.
• 1987: 4,160 students at the University of Massachusetts Amherst positioned hundreds of TWISTER mats together and set a world record for the largest TWISTER game that was ever played.
• 2008: No chalk or sidewalk required! Children could play hopscotch year-round with the TWISTER HOPSCOTCH game. The game was introduced with a non-slip mat surface that's durable and fits in play rooms and hallways.
• 2015: The TWISTER brand teamed up with singer Thomas Rhett and his fans took part in a huge TWISTER game on the World Record Breaking TWISTER mat which measured 27,159.616 square feet, and The Strong National Museum of Play inducted TWISTER into the National Toy Hall of Fame in 2015 alongside Puppets and Super Soakers.
• 2016: The iconic TWISTER brand celebrates five decades of right-hand reds and its 50th celebrate the TWISTER brand's 50th, Reyn Guyer has written a book called "Right Brain Red" which tells the tale of his creative career and offers the complete story of the TWISTER game's exciting beginnings.
About Hasbro
Hasbro, Inc. (NASDAQ: HAS) is a branded play company providing children and families around the world with a wide-range of immersive entertainment offerings based on the Company's world class brand portfolio. From toys and games, to television programming, motion pictures, video games and a comprehensive licensing program, Hasbro strives to delight its customers through the strategic leveraging of well-known and beloved brands such as TRANSFORMERS, LITTLEST PET SHOP, NERF, PLAYSKOOL, MY LITTLE PONY, G.I. JOE, MAGIC: THE GATHERING and MONOPOLY. See they inspire play through their brands at hasbrotoyshop.com