Littlest Pet Shop toys were first introduced in 1992 by Kenner and then reintroduced by HASBRO in 2005 with a brand new design and look. There are currently over 3,000 different pets that have been created under this revision. Do you have a child that loves the Littlest Pet Shop toys? If you do then the Littlest Pet Shop LPS Shuttle Bus is a great gift idea.
Littlest Pet Shop LPS Shuttle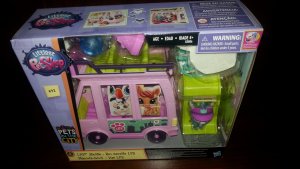 The two-story bus takes the Littlest Pet Shop Pets on an adventure around your living room. Designed for ages 4 and up, this play-set is perfect for my daughter who has just begun collecting some of the pets.  The set comes with bus,  4 accessories, emoji bubble, 16 Deco Bits pieces, 2 paper banners, and sticker sheet.  Kids will absolutely love to customize their bus with deco bits and  sticker sheets. The fun of this set is that you can really style and design it to your taste, so even the littlest of Littlest Pet Shop fans can get in on the creative customization fun!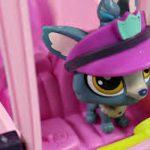 Barkley Woofley is the official driver of this fun vehicle. Featuring fun bobble-head motion, he makes a great addition to any pet collection. On the main character there is a hole. You can stick the character onto the hole in the bus so that Barkley is secure. A disco ball and star-shaped banners create a fun party atmosphere. The emoji bubble lets everyone know what a fun time the pets are having – right through the megaphone on the roof! How cute is that? Pets can even slide off the back of the bus on the bright green slippery slide! Depending on the size of your pets, you can fit about 5 pets & 5 pet friends into the bus.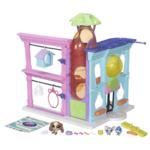 Scan Barkley Woofley's code to bring him to life in the app. Kids can play games to level up this virtual character, and unlock new rooms and accessories in the app.
And if the Littlest Pet Shop LPS Shuttle Bus isn't enough,  kids can design an entire Littlest Pet Shop world, with a wide collection of Littlest Pet Shop play sets, all of which are pretty amazing. Each of those sets are sold separate.
Learn more at www.hasbro.com, hasbro.ca and follow on Twitter (@Hasbro & @HasbroNews) and Instagram (@Hasbro).