As industry leaders in magnetic building toys, Magformers continues to produce STEM-friendly, construction sets that allow children to explore their creativity and imagination. Now your child can go on their very own camping adventures with Mason & Mutts Camping Adventure.
Mason & Mutts Camping Adventure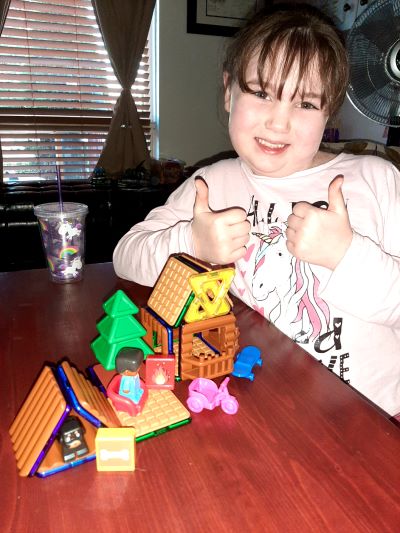 Mason & Mutts Camping Adventure includes 6 triangle pieces, 12 square pieces, 2 log balcony pieces, 2 log window pieces, 6 log brick pieces, 1 tree, 4 base plates, 2 image blocks, 1 skateboard, 1 tricycle, 1 chair, 1 boy figure, and 1 dog figure. All of the pieces work with other Magformer sets.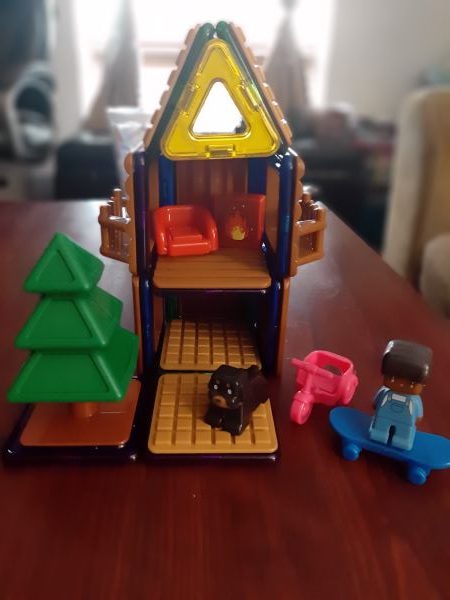 Children have the option of following the diagrams included in the Mason & Mutts Camping Adventure or using their imagination to create tents and log cabins. The pieces either interlock together or stay in place using their magnetic hold. The play value doesn't stop with the building. Children can add Mason and Mutt to play scenes to create their own stories!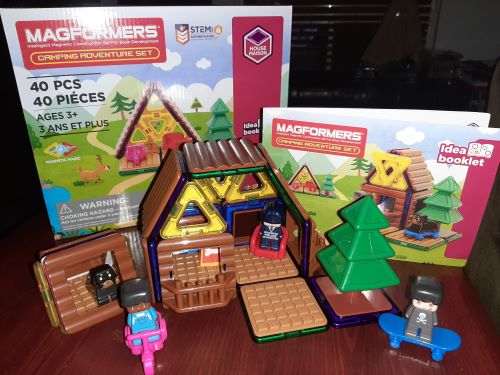 Magformers products are now third-party STEM approved, so they are not just another toy, but one that is made to last and grow with your child. The Magformers Camping Adventure Set enhances children's overall development, including hand-eye coordination. It is also an ideal 3D Brain Training activity, which studies show helps children with cognition and decision-making skills.
Magformers is one of my daughter's favorite toys. She owns four sets and all four sets get lots of play in our home. They also interlock together. It's wonderful when you find a toy that truly engages your children and provides hours of fun.
Be sure to check out these other themed sets from Magformers: Megan & Marley's Aviation Adventure, Magformers Hospital Set, Magformers Smart Set, Magformers Ice Cream Store Set, and Magformers Bank Set.
If you are searching for a fun toy to give a child then I highly recommend one of Magformers amazing sets.
About Magformers:
MAGFORMERS® is the industry leader in magnetic building toys for children. We believe it is vital for children to develop through creativity and our patented, 'always attracting' magnetic technology delivers a unique constructional play experience. It is MAGFORMERS® commitment to providing a high-quality, reliable product that inspires the creators of the future.
For more information on Magformers visit, magformers.com